Get to know Bosch Mixers, meet talented bakers, and learn more about Bosch Universal Plus attachments. Find all our latest news and posts down below, and leave a comment or two of what you'd like to see covered next!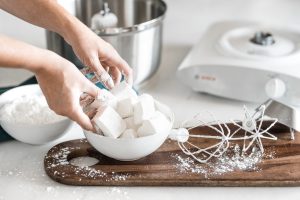 Our Stainless Steel Bowl does much more than looking beautiful. If you're a pro baker, you know that a good metal bowl is an essential
Read More »
Feeling Hungry? Check out these delicious eats!
This delicious recipe comes from Lori Vaughn, owner of Lo's Kitchen Co. She is an extremely talented baker who specializes in gourmet bakes made simple. So
Read More »
This delicious whole wheat bread recipe was created by the talented Heather, That Bread Lady. She has shared it for all of us to try!
Read More »
A member of the Bosch Mixer family created the perfect recipe for brown bread using her Bosch Mixer and has been kind enough to let
Read More »
From the amazingly talented Barb at www.sweetmacshop.com comes a perfected a macaron recipe specifically for the Bosch Mixer. Whether you're a macaron novice or a pro, Barb
Read More »
Submitted by Karen Rutherford – @cakedecorist.com A new baking trend sees cakes with unique and fascinating designs. Of these designs, one of the most popular
Read More »