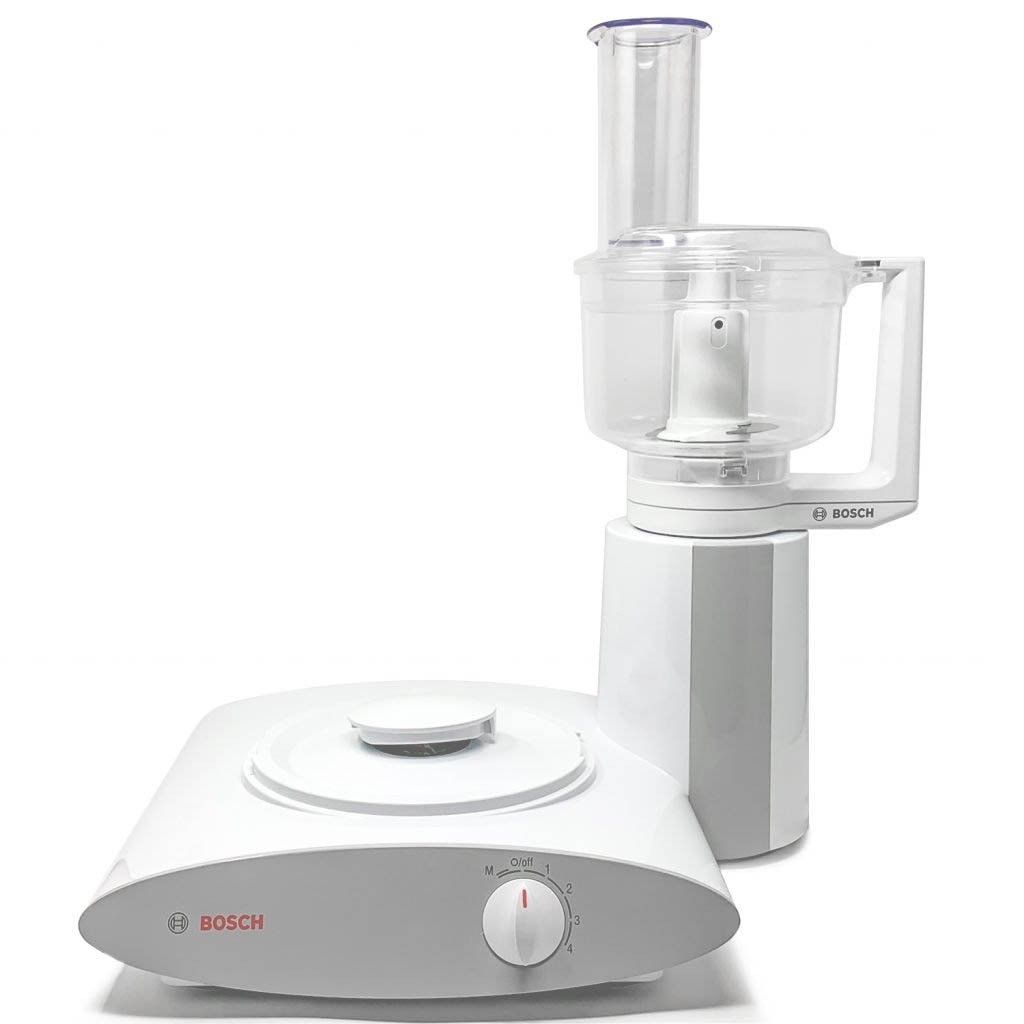 The Universal Food Processor for Bosch Mixers could easily be your first choice of attachments. Convenient and easy-to-use, it is the perfect size for a quick slice or shredding. Whether you whip up some pesto, slice some vegetables, or zest an orange, the Universal Food Processor is quick, powerful, and gets the job done.
The food processor comes with three discs: a reversible slicing shredding disc, a reversible shredding disk, and a rasping disk.  It also includes the very handy s-blade and  a five cup bowl.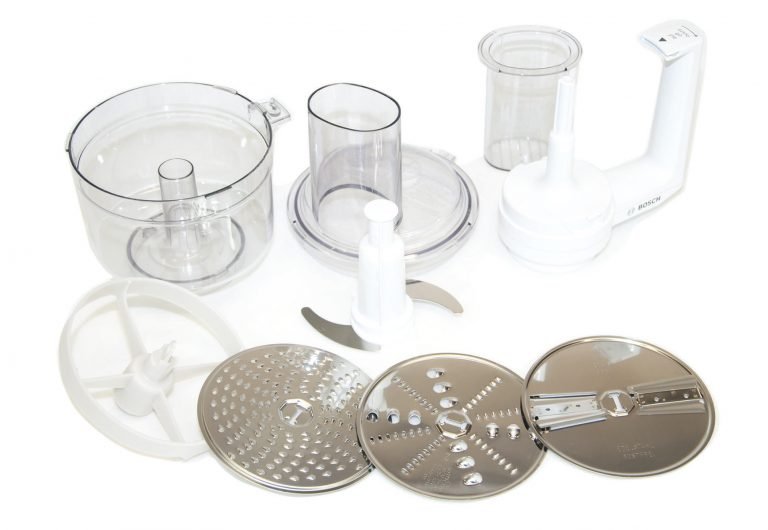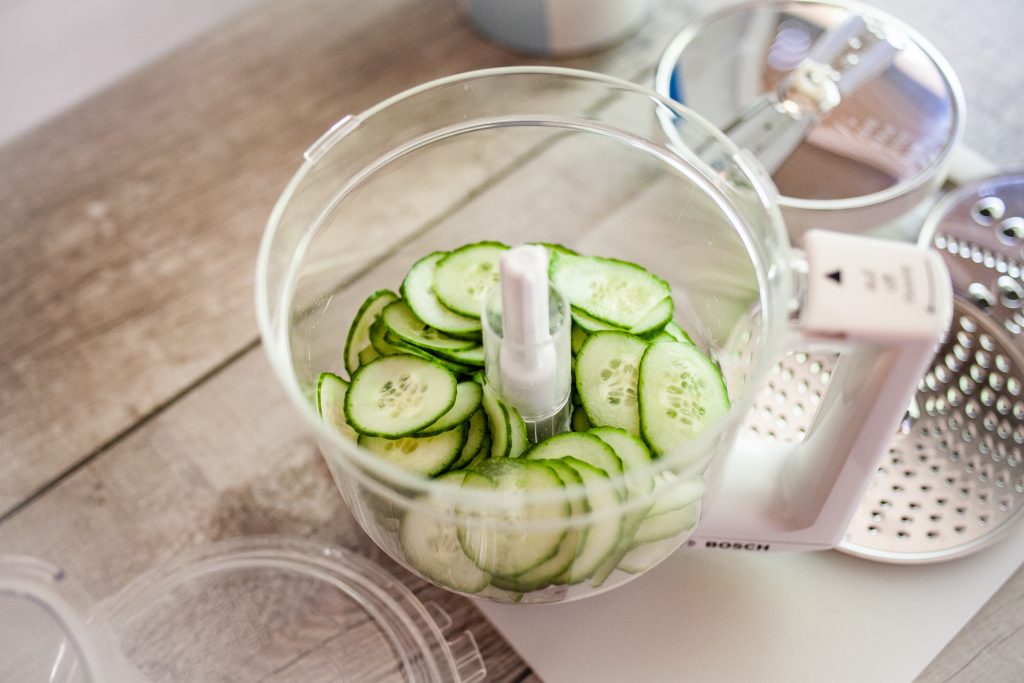 The slicing disc is reversible, slicing thick or thin.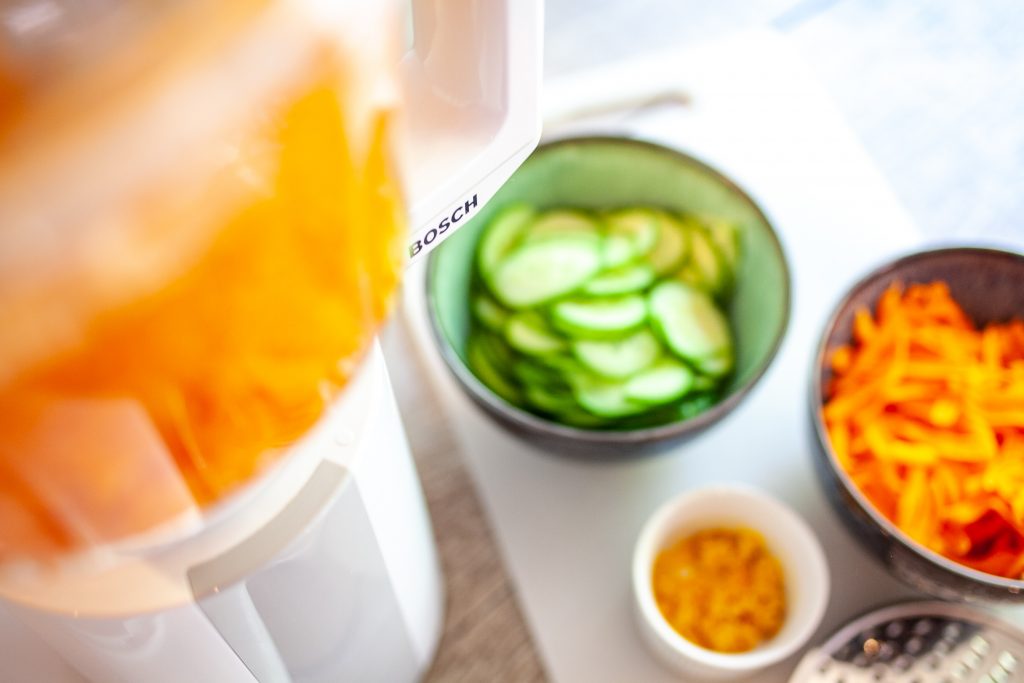 You can place a slice of lemon or orange in the chute, press briefly and have perfect orange zest. No more shredded knuckles! The zest doesn't fall into the bowl but clings to the underside of the disc holder. Use a small spatula to gather your zest.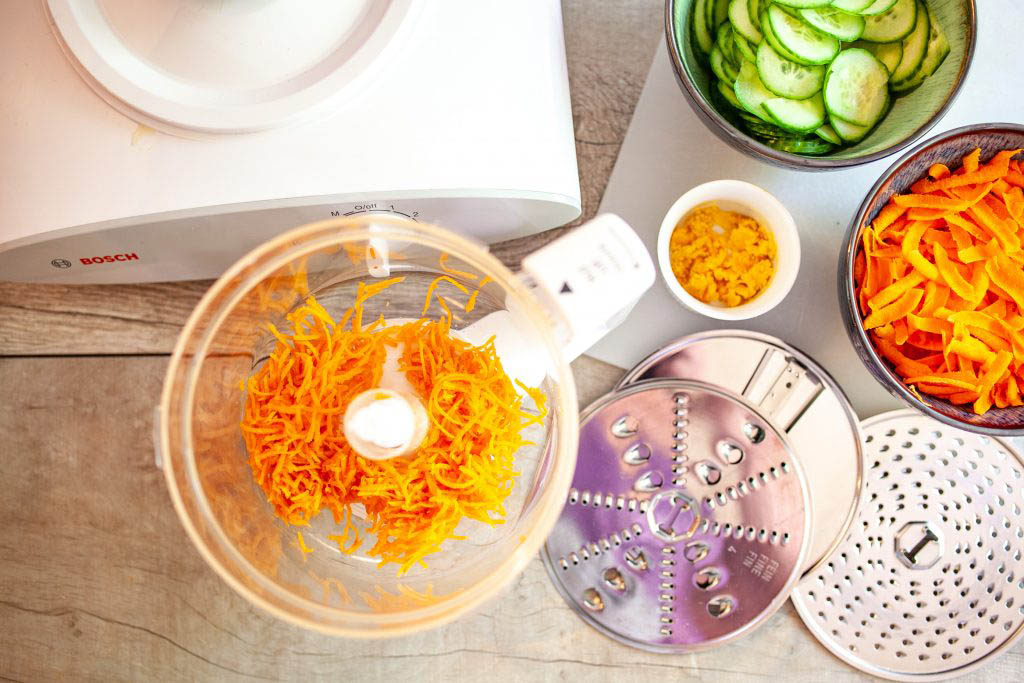 The shredding disc is also reversible, with a large shred and a small shred.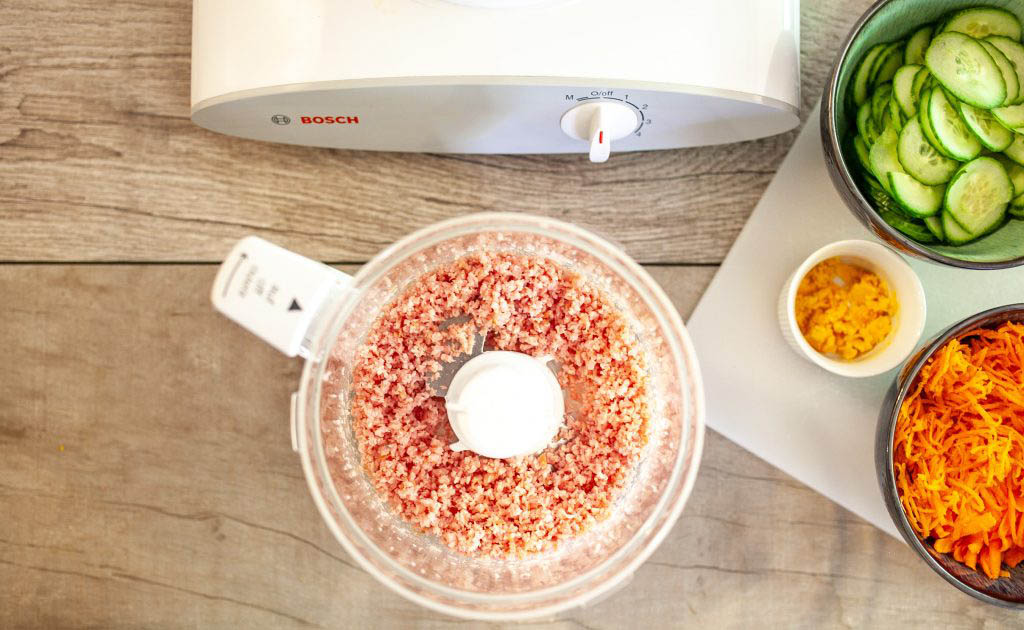 The s-blade is sharp enough to quickly and cleanly chop nuts or mix pesto. 
The Universal Food Processor has been designed with multiple safety features made to protect your fingers from sharp blades. The processor must be completely assembled with the lid locked in place before it can be mounted on the high-speed tower of the Bosch Universal Plus mixer. To assemble the food processor, follow the steps below: 
Assembling the food processor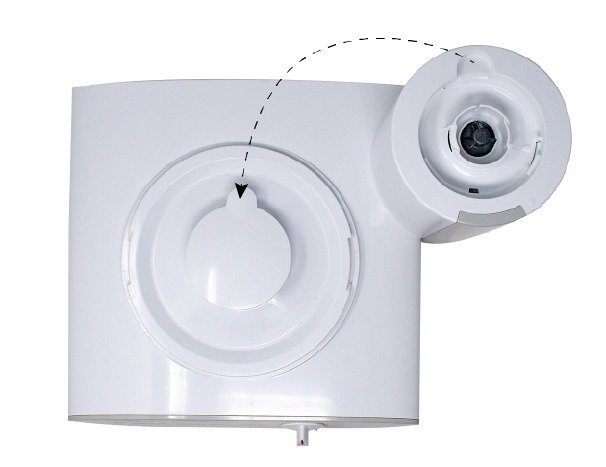 1. Remove the safety cap and place on the mixer drive shaft for safe keeping.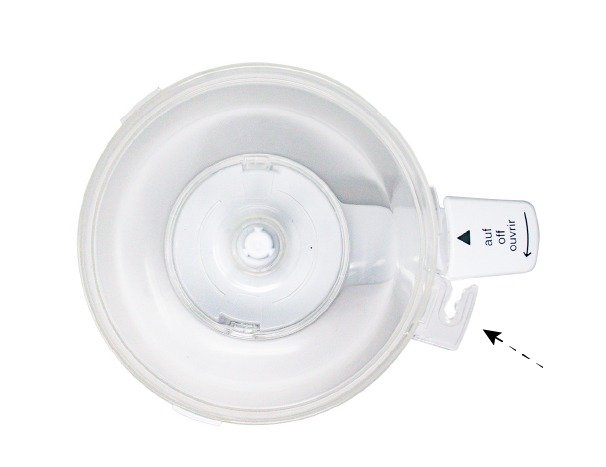 2. Take the bowl of the food processor and place on the handle piece. Notice the notch needs to be placed on the left side of the handle.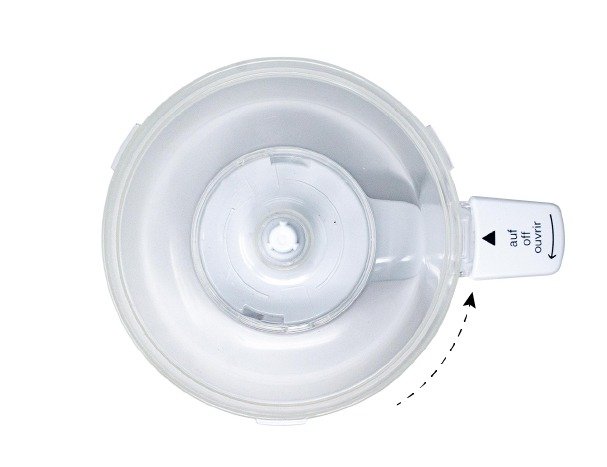 3. Lock the bowl onto the handle by sliding the notch into the handle counter-clockwise.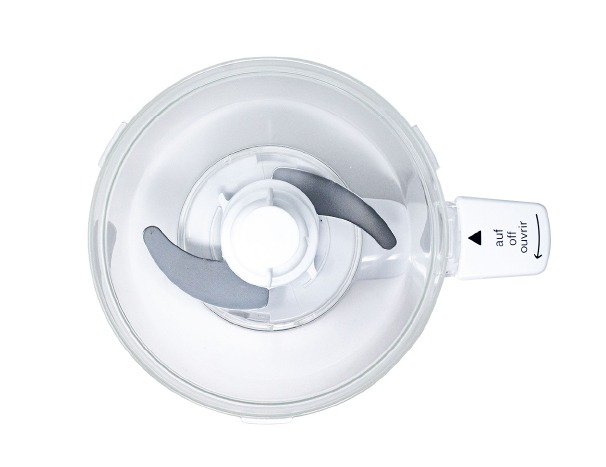 4. Put the blade into the food processor.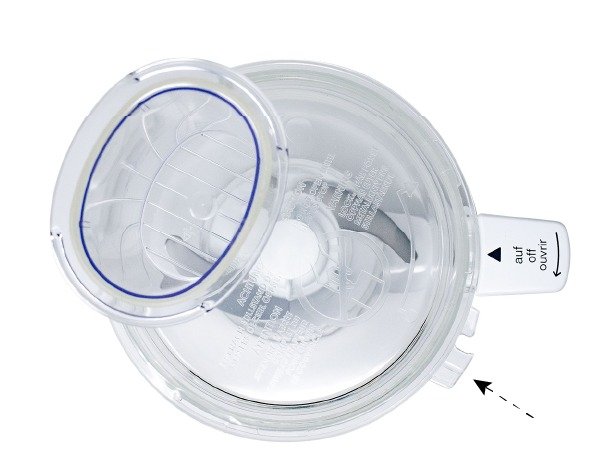 5. Place the lid on the food processor with the lid notch to the left of the handle.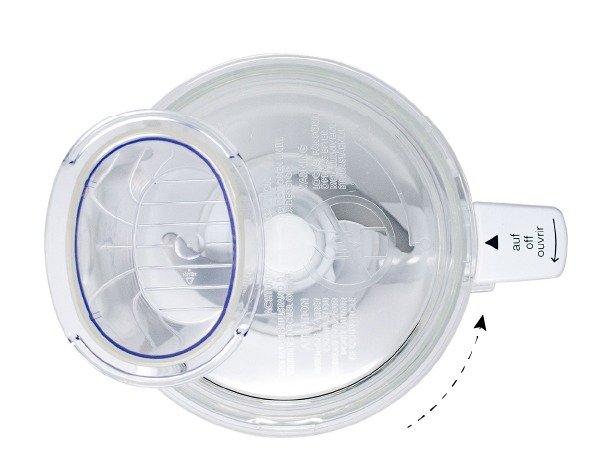 6. Lock the lid in place by pressing the notch counter-clockwise into the handle. Once the lid is locked in place, the safety feature will allow you to place the processor onto the mixer. 
Follow steps 1-3 above
4. Place disc holder on food 
processor.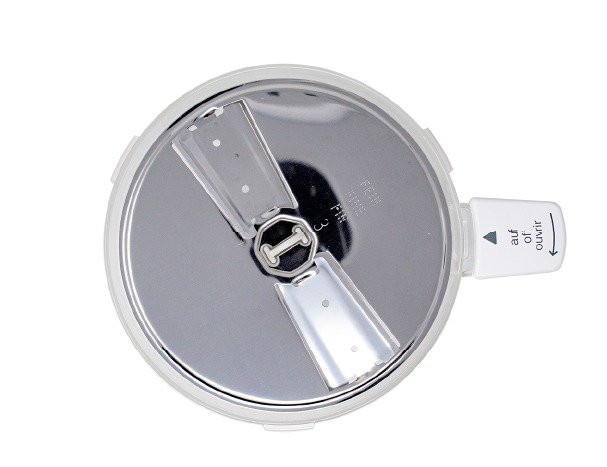 5. Place desired blade on disc 
holder. 
Follow steps 5-6 above to attach lid.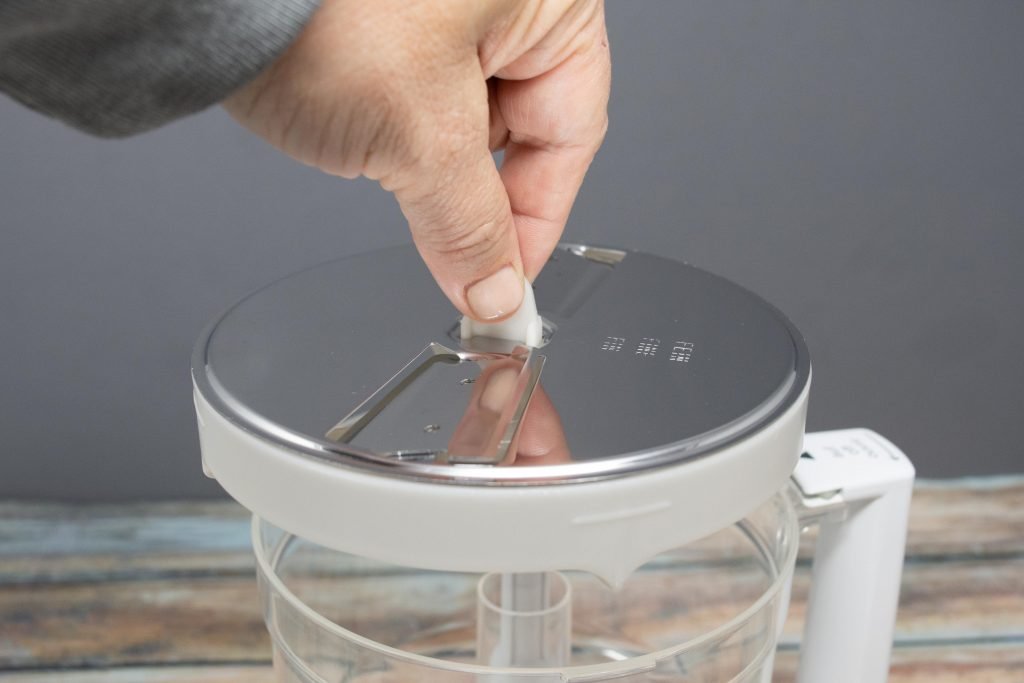 Tip: use the tab on the disk holder to lift the blades off.
As you can see the Universal Food Processor is an incredible kitchen tool. Why have a completely separate kitchen appliance when you can use the high speed drive on the Bosch Universal Plus? Give it a try and let us know what you think of it!