When you go to find the perfect stand mixer, it is easy to become overwhelmed with the variety of options available. Yet, even with many competitors out there, we are confident that your perfect mixer will be a Bosch mixer.
Bosch Mixers History of Excellence
Since the development of the Bosch mixer in 1952, Bosch mixers has had a history of excellence. From the beginning, this stand mixer was designed to make the endless chore of cooking and baking easier. Within four years of the Bosch mixer being on the market, it won awards for design and excellent functionality and became known as the best stand mixer for making loaves of bread.
This history of excellence doesn't end with the first Bosch mixer. In fact, for many families, their Bosch mixer is an heirloom, which has been passed down from one generation to the next. Since great attention has been given to the Bosch mixer's construction and various moving parts, our stand mixer is a workhorse that doesn't stop working after a few years, unlike less well-made; stand mixers.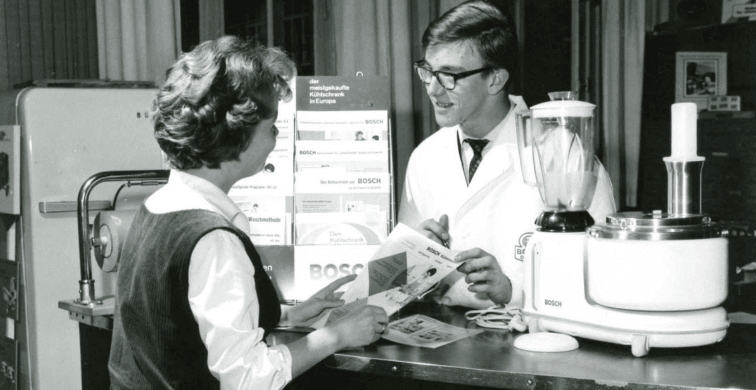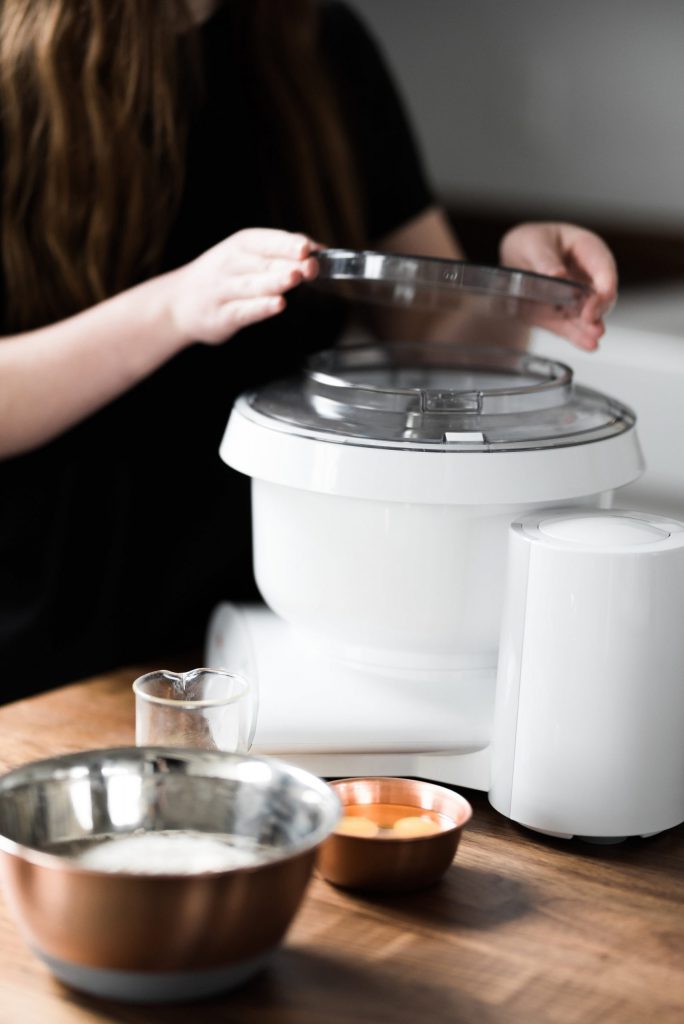 Expect Top-Notch Performance from Bosch Mixers
Bakers and cooks can expect top-notch performance from the Bosch Universal Plus Mixer. The deep, 6.5-quart bowl allows for bulk baking and can yield 14 loaves of bread or 34 dozen cookies!
Powerful bottom drive motor
Other stand mixers mix from the top down, which can be less effective at combining ingredients. Bosch mixers come with bottom drive motors, which ensures that no dry patches of baking ingredients are left after mixing. The powerful motor can help you cut down on the amount of time you need to finish your mixing and kneading.
Easy-to-clean parts
To make cleaning up after using the Bosch mixer a breeze, the majority of the Bosch mixer parts can be placed inside your dishwasher to be cleaned. This easy cleaning also extends to many of the Bosch mixer attachments.
Low-mess splash guard
While an explosion of flour out of a mixer is funny in a sitcom, cleaning it up is a chore you wouldn't in your kitchen. The splash guard all Bosch mixers comes with will keep your ingredients in the bowl where they belong. There are even two stages to the lid – a partial cover which allows you to continue to add ingredients and a small lid to cover the opening.
Small footprint for simple storage
Easy storage of kitchen appliances is important as counter space is usually needed for active cooking. The Bosch mixer has been designed to be a compact and powerful mixer which will not take unnecessary space on either your counter or in your cupboards.
Our Stand Mixers are Multi-Faceted Kitchen Tools
Most kitchen experts recommend against a single-use kitchen appliance. Luckily for you, the Bosch mixer is a multi-faceted kitchen tool, thanks to the variety of attachments you can add to it. Some of the most popular attachments which can help you eliminate other appliances from your kitchen are:
Be sure to check out the many other Bosch Universal Plus Mixer attachments you can add to your stand mixer to make sure you are using the mixer to its maximum potential.
Customers Love Their Bosch Mixers
"If you are looking at quality and value, look no further! BOSCH mixers are the superlative mixer for your kitchen. We had the older model mixer for 20+ years and after countless whole wheat loaves and thousands of cookies, it finally died. We replaced it with this new upgraded model and I have to say I'm impressed. Though more streamlined with a smaller footprint, none of the Bosch quality has been sacrificed."
"In the past 2 weeks, I have purchased and returned 3 [competitor] mixers. I make bread a couple of times a week and the [other mixer] either wasn't big enough (I use 10 cups flour) or you have to use the one with the bowl lift, which I did not like- it wasn't user friendly. Just got my BOSCH this morning and I whipped up a batch of my dough. So far I'm very impressed with how easily everything comes apart, how well it incorporates the dough, and I'm thrilled that it has suction feet and doesn't dance on the counter. I think I'll be keeping this one!"
"Very happy to finally have this in my kitchen! Mashed potatoes, bread doughs, shredding cheese, to smoothies… this guy does it all with the right attachments. With a powerful motor, this kitchen mixer has no problem kneading a bowl of dough with its legendary BOSCH durability."
"Convenient suction cups on the base make sure it stays put on your countertop without taking up a lot of space. The easy open top bowl is very handy for baking as compared to other stand mixers. The bowl is very easy to remove and keep clean. It comes with just the dough hook and wire batter whisks but you can purchase numerous other parts to including a meat grinder, blender, and slicer/shredder accessories that attach and utilize the main motor. This is truly a capable, all in one kitchen workhorse. After owning a Bosch mixer, my kitchen will never be complete without one."