"In order to get to where I wanted to be, I had to close the door on where I was" - Liz Marek
Bosch Mixers had the pleasure of attending & sponsoring the Everything Food Conference last June.  I was lucky enough to spend time at the conference getting to know a lot of amazing bloggers.  It was there that I first had the pleasure of meeting Liz Marek of Sugar Geek Show.  Being very new to the social world I really had no idea who she was or what she did. I did however learn that she is a lovely human being, so kind, and just a pleasure to talk to. Liz expressed some interest in the Bosch Mixer and was hopeful that she would win our mixer giveaway.  I found myself also hoping that she would win, but unfortunately, the stars were not aligned.  She won an immersion blender but not the  Bosch.  Luckily, I know a guy… and we managed to get a Bosch into the hands of Liz Marek – Sugar Geek Supreme! 
We were very excited to see what Liz would do with her new mixer and wouldn't you know it she immediately filled it to the brim with cake batter to see what it would do. The good news is that the Bosch handled the load with ease, and the lid kept it all inside the bowl. The better news is that Liz loved it!  And we love that she loved it, but enough about the Bosch, let's talk about Liz.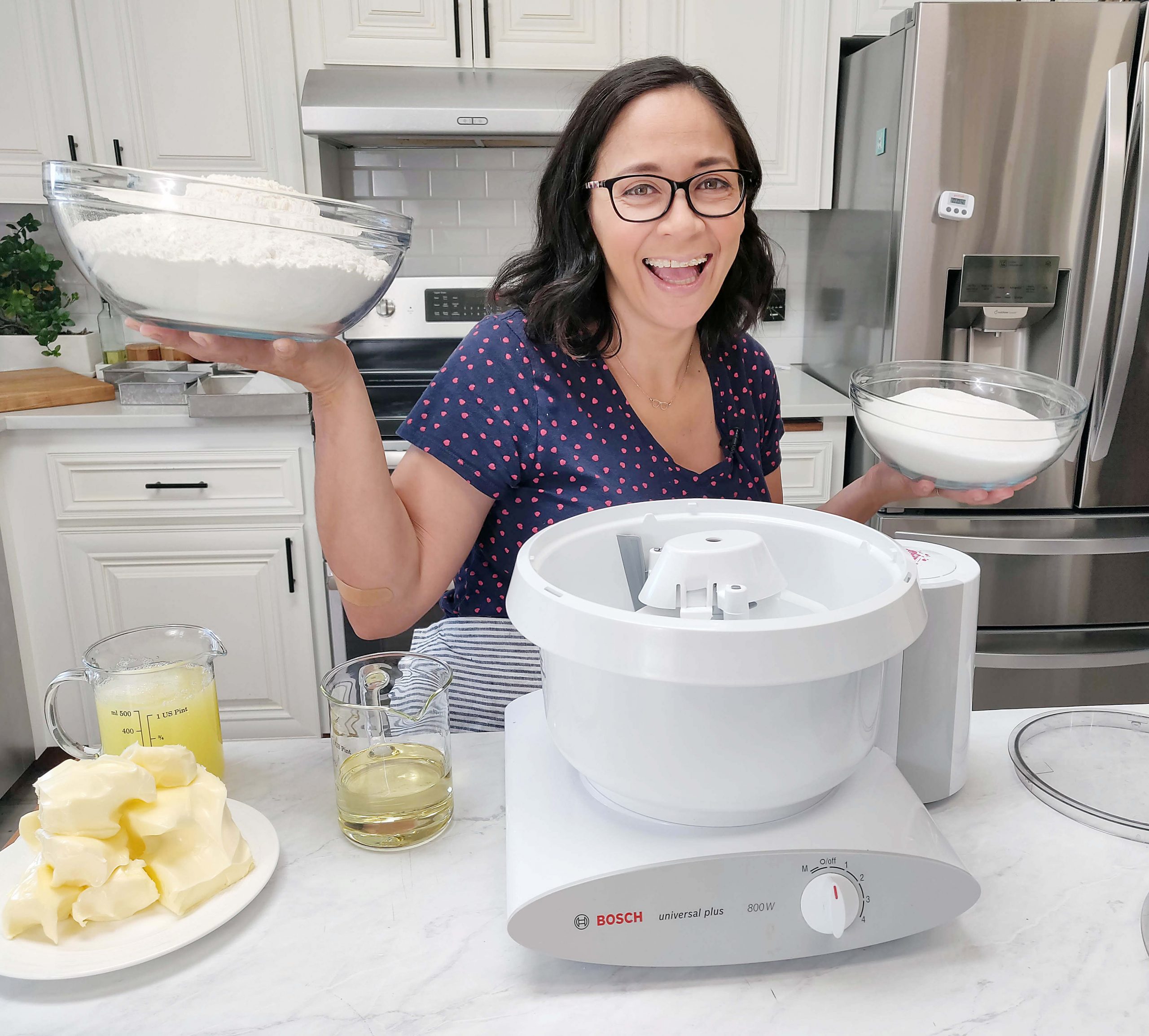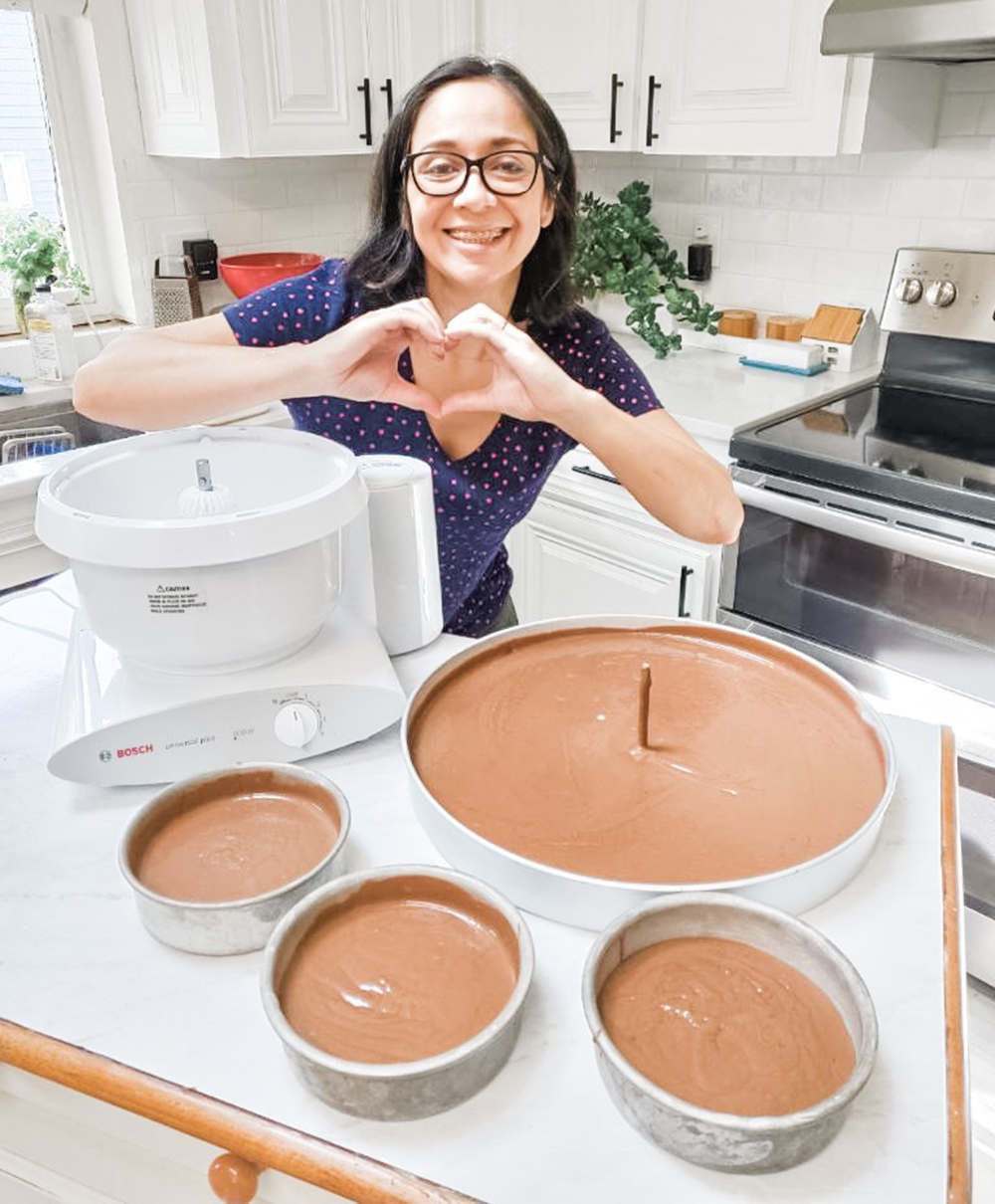 Liz is naturally a very creative person, an artist. Way, way back in the "stone age" of 2007, before blogging had really taken off, Liz discovered that she could use her creative talents decorating cakes and fell in love with this new hobby.  She taught herself how to bake and decorate through trial and error, and realized that even the cookbooks didn't have the amount of detail that she was looking for. So she started filming detailed tutorials and posting them on Youtube. They were a hit!
She continued doing videos for a few years and then attended The Oregon Institute for Baking and Pastry.  Doesn't that sound amazing?  At this point in her career Liz was making cakes professionally, competing in (and winning) competitions, filming tutorials, blogging, and writing a book. Apparently, she doesn't need much sleep. Oh, and she was pregnant with her first child. Something had to give so she decided to close her award-winning cake business. "I knew in order to get to where I wanted to be, I had to close the door on where I was". Get's me every time, that quote should be on a t-shirt. 
In 2015 Liz, along with her husband Dan, founded the current Sugar Geek Show, an online cake decorating show. Even I can dream about making a beautiful cake when I watch her videos!  Liz has two beautiful children now, the sweetest little girl, Avalon, and beautiful baby boy, Ezra. She films, teaches, bakes, and shares all of her wisdom with the masses. She's the real deal, through and through and through!  Self taught, then professionally taught. Her cakes (and everything else) look amazing and taste phenomenal. Please take a minute or an afternoon to check out her website www.sugargeekshow.com, just make sure that you aren't hungry!
www.boschmixers.com is proud to announce a new "contributors" page on our blog, and we are thrilled that two of Liz's recipes are the first to be featured.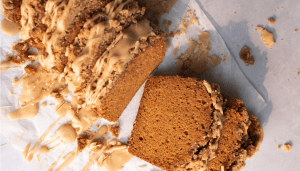 This delicious recipe comes from Lori Vaughn, owner of Lo's Kitchen Co. She is an extremely talented baker who specializes in gourmet bakes made simple. So
Read More »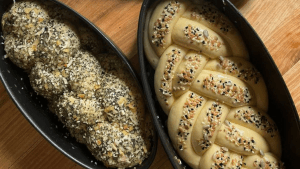 This recipe comes from Naomi E., who is a recipe developer. She's always posting new recipes on her Instagram along with helpful tips & information.
Read More »