"The smell of good bread baking, like the sound of lightly flowing water, is indescribable in its evocation of innocence and delight…"
― M.F.K. Fisher, The Art of Eating
Everyone needs a few great recipe's in their back pocket.  Cookies that your kids love, or a salad the neighbors hope you bring to the potluck.  Pasta sauce that takes all day to cook, or chicken noodle soup that fills the house with the smell of love. Cooking and baking take practice, and with practice come expertise. When you've perfected the recipe is when the magic happens. 
My mother's go-to recipe was home-made bread.  She loved making bread and we all reaped the rewards. We (my brother and I) would get off the school bus late in the afternoon and walk into a home filled with the aroma of freshly baked bread.  I loved to slice off the end piece, toast it, then slather it with butter.  Mom would get frustrated because, "obviously" fresh bread is best served warm from the oven, buttered with homemade raspberry jam. You just don't toast bread straight from the oven, for heaven's sake it's already warm!
Mom started out making her bread by hand, kneading it on the big wooden board that pulled out of a slot in the cupboard. At some point when I was a teen she got a BOSCH mixer and things got serious. I don't know if she really liked making bread or if she just really loved her Bosch.  Probably a little bit of both, but we could count on homemade bread or rolls once or twice a week.
Sometimes the leftover dough was fried up into "scones" and served with honey.  I learned later in life that what I thought was a scone was actually fry-bread.  No matter, our "Idaho scones" were delicious.  Occasionally we would get really spoiled with doughnuts, rolling the dough, cutting the circles, and popping out the holes.  My brother would stand at the fryer watching the doughnuts intently making sure to flip them at exactly the right moment, then sprinkle them with cinnamon sugar while they were still hot.
Bread and jam, scones, doughnuts, and don't even get me started on the rolls.  Such diversity and yumminess from one simple recipe.  There are a lot of nuances to making bread, it takes a little practice, but the rewards are worth it. Once you've mastered the skill the options are endless. Try some bread sticks, or cheese bread, add rosemary or garlic.
The Classic Bread Recipe from Bosch is a great place to start.  Take it, try it, then make it your own.  Cheese bread, cinnamon rolls, or bread sticks, the Bosch mixer will do the work and your family will reap the benefits. 
TIP:  Kneading is a slow and steady process. Always knead your dough on speeds 1-2, never higher.  Kneading at a higher speed tears the bread instead of stretching it. 
Small Batch
Basic White Bread
The dough hook extender is recommended for small bread batches of 1 to 2 loaves, but may also be used for more efficient kneading of 3 or more loaves.
Ingredients
Small Batch (2 loaves)
1 cup

 warm milk

1 cup

 warm water

4 Tbsp

 butter, softened

4 Tbsp

 sugar

2 tsp

 salt

1-1/2 Tbsp

 instant yeast

4 1/2 to 6 cups

 unbleached white flour
Recipe Instructions
With dough hook and dough hook extender in place, add milk, water, butter, sugar, salt, about half of the flour, and the yeast into the mixing bowl. Use the "M" switch to incorporate. Optional step: for enhanced flavor and texture, allow the batter to sit for 15-30 minutes, until it becomes bubbly. Slowly increase to Speed 2 and continue adding remaining flour, a little at a time, until the dough pulls away from the sides of the bowl. You may not need all of the flour. Continue kneading at Speed 2 for 5-6 minutes until the dough is smooth and elastic. Lightly flour your hands and the counter. Divide dough into equal portions and shape into loaves. Place in greased loaf pans and let rise until doubled in size. Bake at 350°F for 30-40 minutes or until golden brown and internal temperature reaches 190°F-200°F.
Large Batch
Basic bread tips for making bread in a Bosch Mixer
Add ingredients to the bowl in this order: liquids first next 1/2 the recommended flour, and other dry ingredients, (yeast on top).

 

Pulse "M" switch a few times.

 

Mix on speed 2 until thoroughly combined. Optional" let dough rest 15-30 minutes, until bubbly.

 

(This will enhance the flavor and texture).

Add flour until dough pulls away from the sides and bottom of bowl and form a ball slightly over to one side.

Knead dough 5-8 minutes, until smooth and elastic, so a small piece can be gently stretched to form a translucent "window", without tearing.
Place in a bowl, cover and let rise until doubled, 20-60 minutes, depending on size and shape of dough and room temperature.

 

White dough must rise once, be punched down, and then made into loaves to rise again.
Remove dough from the bowl and place it on a lightly floured surface (for white dough), or a lightly oiled surface (for whole wheat dough). Divide into portions of about 1 1/2 to 2 pounds, depending on pan size. Shape as desired and place in greased pans.
Bake until golden brown. Filled loaf breads such as jalapeño cheese or cinnamon swirl typically take up to 5 minutes longer to bake than standard loaves.

 
Here are a few recipe upgrades utilizing the classic bread recipe.  Click on the picture for the recipe.
In case you're curious, my mom is 86 now and nearly blind.  We recently helped her move and I found her BOSCH tucked away in the cupboard. I asked if I should donate it or put it in the yard sale?  Her response, "Well, I'm keeping it of course".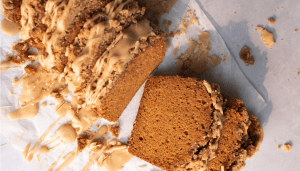 This delicious recipe comes from Lori Vaughn, owner of Lo's Kitchen Co. She is an extremely talented baker who specializes in gourmet bakes made simple. So
Read More »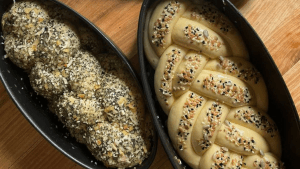 This recipe comes from Naomi E., who is a recipe developer. She's always posting new recipes on her Instagram along with helpful tips & information.
Read More »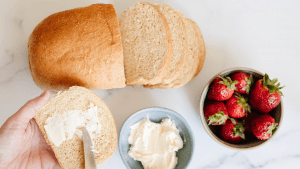 This delicious whole wheat bread recipe was created by the talented Heather, That Bread Lady. She has shared it for all of us to try!
Read More »