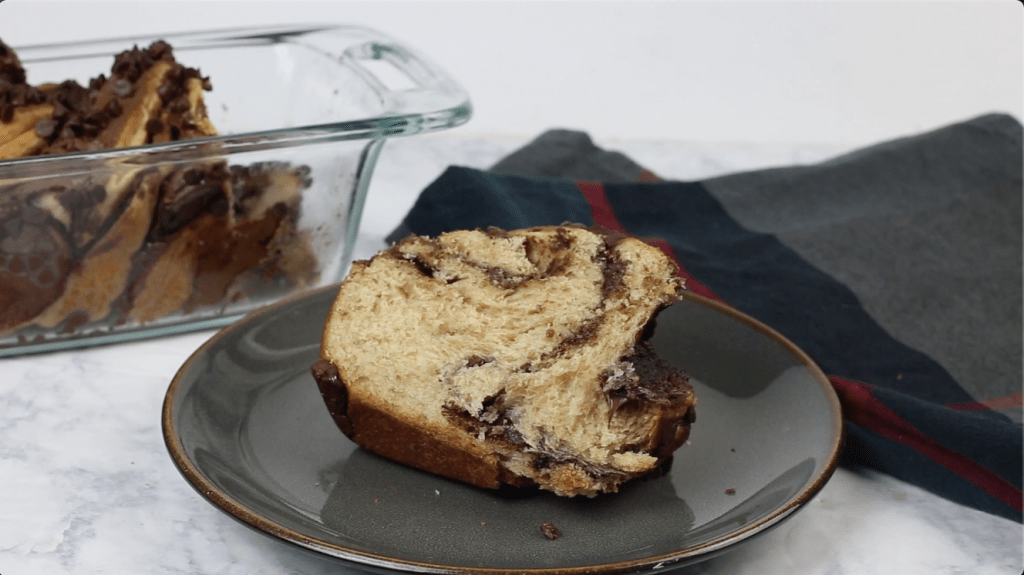 Chocolate Babka
1/4 cup

warm milk

2 1/4 tsp

active dry yeast

1/4 cup

sugar

1 1/2 cups

all purpose flour

1 cup

whole wheat flour

1/4 cup

canola oil

1/4 cup

softened butter

1

egg

1

egg yolk

1/4 tsp

salt

1 cup

hazelnut spread

1 cup

semi sweet chocolate chips
Recipe Instructions
Place milk, yeast and 1 tsp of sugar in mixer bowl. Let sit 10 minutes. Add remaining sugar, flours, oil, softened butter, and eggs.
Knead on speed 2 for 6 minutes. Cover bowl with plastic wrap and let rise 90 minutes.
Preheat oven to 350F. Grease loaf pan. Roll dough into a 9×13 inch rectangle. Spread with hazelnut spread and top with chocolate chips.
Roll dough into a log. Cut the log in half lengthwise. Twist the two logs around each other. Place into prepared loaf pan.
Brush with 1 tbsp milk and egg white.
Bake 45-50 minutes.