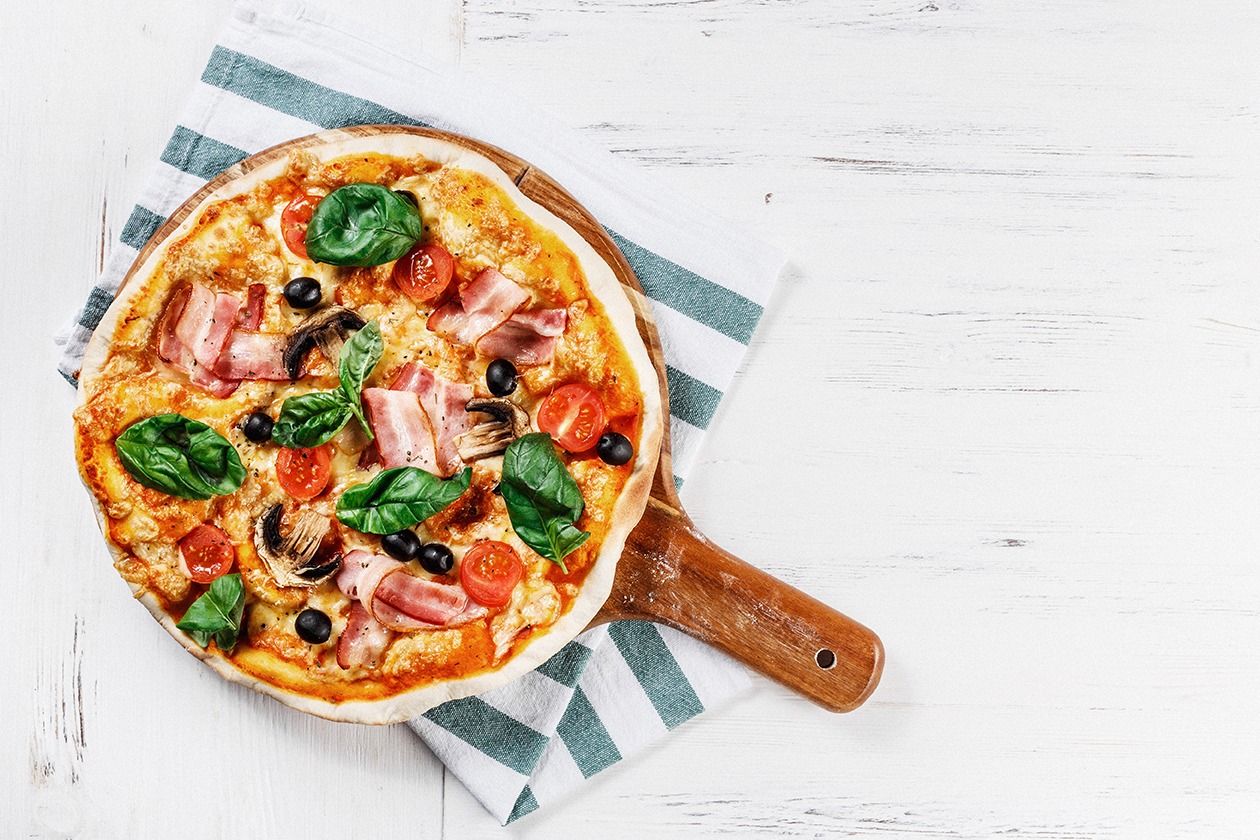 Pizza Dough
Alma Hair – Orem Bosch Kitchen Center
3 cups

Hot tap water (not hot enough to burn)

2 Tbsp

Honey

6-8 cups

Whole wheat or unbleached white flour (approximate amount)

1 Tbsp

Saf flour

1 Tbsp

Real salt

1 Tbsp

Kitchen Resource Dough Enhancer
Recipe Instructions
Put water, honey and 3 cups of flour in Bosch bowl. Mix until paste consistency. Add yeast and salt. Add additional flour quickly 1 cup at a time only until mixture pulls away from sides of bowl. You may not need to add entire amount of flour or you may need to add a bit more.
If using all white flour, knead 5 minutes. If half white half wheat flour, knead 8 minutes. If all wheat flour, knead 10 minutes.
Add dough enhancer last 2 minutes of kneading.
Place pizza stone in oven and preheat to 500°.
Roll crusts to desired shapes and sizes. Add favorite toppings and bake on stone for 7 minutes.
Pizza crusts can be baked for 3 minutes and then frozen for later use. They will store up to two months. They thaw 1 hour before adding toppings and baking.
Spread with favorite pizza sauce. Add toppings of choice and sprinkle with cheese. Bake on preheated pizza stone at 500° for 7 minutes. Some suggested toppings: Tomatoes, green or red peppers, mushrooms, olives, onions, zucchini, squash, pepperoni, sausage, hamburger, ham, canadian bacon, pineapple, cheese of choice, etc.
Variation: Add to water/honey mixture: 2-3 cloves garlic, 2 tsp basil, 2 tsp oregano
Variation: For bread sticks – Use 1/3 Pizza Dough Recipe, 1 Cube butter (room temperature), 4 cloves garlic, grated Parmesan cheese
Pinch off dough and roll into rectangle 12″x8″ (1/4″ thick). Cut into 3/4″ wide strips. Place on greased or parchment paper covered bun pan. Allow to rise until double in size. Bake on pizza stone 500° for 7 minutes until lightly browned. Press garlic into butter and brush on tops of cooked bread sticks. Sprinkle with Parmesan cheese.