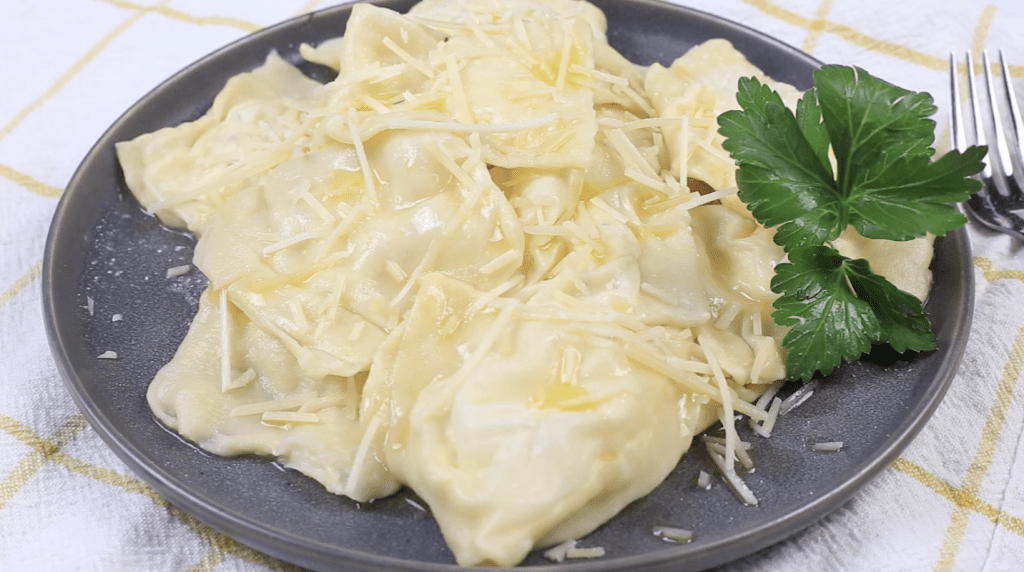 3 Cheese Ravioli
Ingredients
Pasta dough

2 cups

flour

1/2 tsp

salt

3

eggs
water if needed
3 cheese filling

1 cup

parmesan

1/2 cup

mozzarella

1/4 tsp

garlic powder

1/4 tsp

pepper

1 tsp

dried basil
Recipe Instructions
Add dough ingredients to mixer. Mix on low with dough hook until combined. Continue mixing until dough no longer sticks to the side of the bowl, about 5 minutes. Add more flour or water if necessary.
Wrap dough in plastic wrap and allow to rest for 30 minutes in the fridge.
Divide dough into 4 pieces and feed through pasta roller. Continue feeding the dough until you reach the lowest setting on the roller. Set aside.
Mix the filling ingredients together. Dollop the filling onto a sheet of pasta, leaving an inch between each dollop. Using a pastry brush, lightly brush water around the cheese dollops.
Place another sheet of pasta on top of the dollops and carefully push the pasta around the cheese.
With a ravioli cutter (or pizza cutter) cut the ravioli into cubes.
Cook in boiling water for 3-5 minutes or until the ravioli starts floating.
Serve with olive oil and grated parmesan.