If there were Bosch Star Hall of Fame then Ashlee Marie would be the number one inductee, the Rolling Stone of Bosch.  I should say Bob Dylan cause my boss is a Bob Dylan groupie and I like to shmooze whenever I can.  So Ashlee Marie is the Bob Dylan of Bosch, a true queen of her craft.  In her own words she likes to "make some awesome,  and teach you how".  Ashlee is a true recipe creator, and an incredible teacher.  
I have actually made one of Ashlee's recipes "gasp",  and a few weeks ago I had the privilege to sponsor and attend Ashlee Marie's Vidretreat.  It was a truly amazing experience. I learned so much from a great teacher, her professionalism and drive are unparalleled.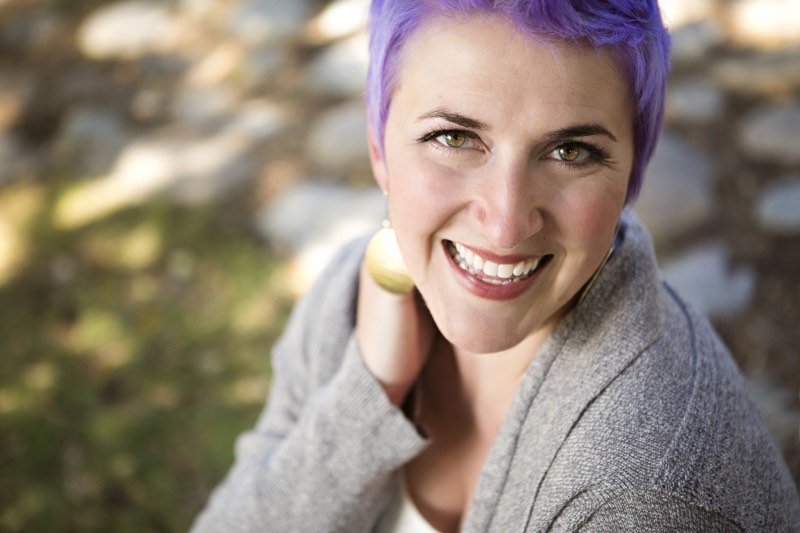 Ashlee didn't grow up loving to cook in fact she really didn't care much about food until she had the opportunity to live in Japan.  Ashlee's husband landed a job with a Japanese company and her young family was moved to Japan for a year of training.   Ashlee embraced the Japanese culture and discovered a love of…. all things food.  She loved not only the Japanese cuisine but also dishes from other cultures that she found in the area.  It was truly an eye-opening  life-changing experience. 
One problem the young mother faced was missing some favorite dishes from home.  So her husband bought her a tiny oven, like really tiny, and Ashlee began to bake.  Six cookies at a time.  She didn't have recipes so she started from scratch, with an end-goal in mind, writing recipes of her own.  She was good at it, in fact when she moved back to the states she discovered that her recipes were better than the recipes she was trying to duplicate.  
Just a few wonderful recipe's, click on the image to get to the recipe.
Ashlee decided to take a Wilton cake decorating class and discovered a new love and talent. She started a blog to share her cake making and decorating. It's all down-hill from there, or in Ashlee's case up and out!  Her blog took off, and she's created and baked her way into star-dom.  She's even had multiple appearances on the Food Network, one of them was the Halloween Competition.   How cool is that?  
Ashlee has been making cakes and blogging for years, and her content just gets better.  She is a bit of a perfectionist, just a bit, and will continue to hone her craft for years to come.  I first noticed Ashlee Marie Video's on facebook.  I got sucked into one of her cake decorating videos.  Check them out, you'll be sucked in too!  
Ashlee's Bosch Review Series
Ashlee's review of the Bosch Mixer, in this post we are introduced to "Vera".
We've been featuring the blender this month on social media, it's only fitting to find out what Ashlee thinks of it.
Ashlee shows us how the flour sifter works while making her own cake flour. 
It's easy to see why Ashee has been so successful but here at Bosch we love her for another reason, because she loves us back.  Ashlee was raised in a Bosch household, her mother had a Bosch, her extended family used Bosch's, and now Ashlee and her sister have a Bosch, and that is that.  Why mess with a good thing?   She got her first Bosch from KSL online because,  "You don't inherit a Bosch, but sometimes someone will die and their Bosch will be sold on KSL".   Ashlee loves her Bosch Mixers so much she's named them, the older model is "Betty" and the newer model is "Vera".  I have it on good authority that Ashlee has one of the snazzy Black models with the stainless steel bowl, I wonder what her name will be?
Ashlee has created many many recipes and videos using her Bosch Mixer.  She also did an amazing review series on the Bosch and the added attachments.  If you're interested in the mixer, food processor, blender….etc. then check out this wonderful series by clicking on the links above.
Ashlee is now a single mother with 5 amazing children that she adores.  With three special needs kids you can add amazing mother to her list of accomplishments. Her oldest recently graduated high school, is attending college and helping Ashlee with her video editing.  Good job Mama, one down four to go. 
I think you can understand why Ashlee is the queen, if you are new to cooking, or baking or cake decorating, then start with Ashlee Marie.  You won't regret it.  And let us know what you name your mixer!