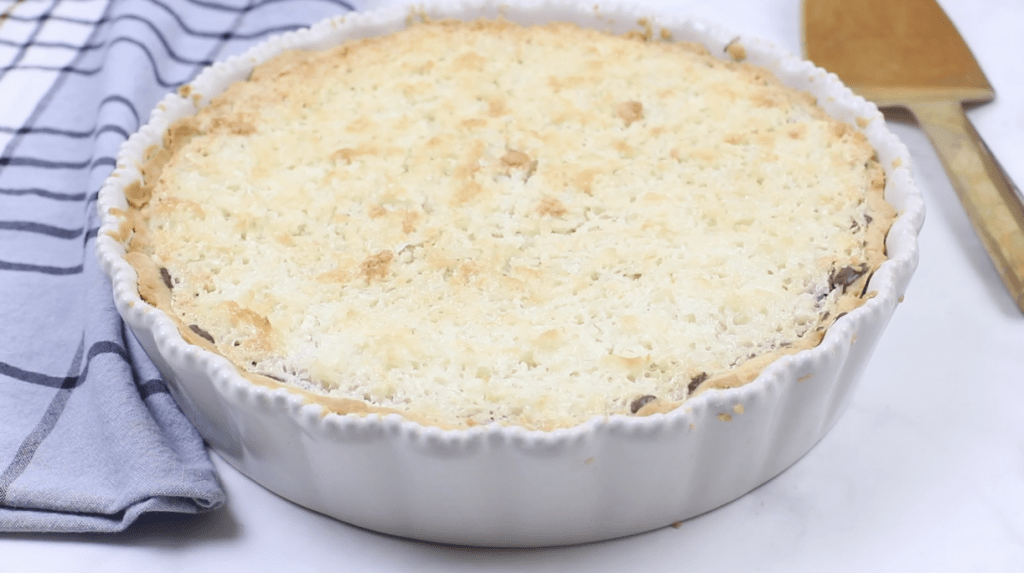 Coconut Tart
Ingredients
Crust

2 1/2 cups

flour

1 cup

butter

3/4 cup

sugar

1

egg

1/2 tsp

salt

3 Tbsp

water
Filling

2 cups

shredded coconut

1 cup

sugar

2 Tbsp

butter

1 cup

water

1/2 tsp

salt

2

eggs, separated

2 oz.

semi-sweet chocolate chips
Recipe Instructions
1. Preheat oven to 350F
2. Put the flour, salt, sugar, eggs, and butter in food processor with dough blade. Blend for 30 seconds. Add water via the feed tube and stop blending once the dough forms a ball.
3. Let dough sit for 30 minutes.
4. Butter quiche pan, line with the pastry dough, and prick the base with a fork. Place a circle of parchment paper on top and layer with beans or rice. Bake blind for 15 minutes. Remove parchment and bake for 10 more
minutes.
5. Melt the chocolate in the microwave at 30 second intervals. Spread it over the baked pastry crust.
6. In a small saucepan simmer coconut, sugar, water, butter and salt for 15 mins.
7. Remove from heat and add in lightly beaten egg yolks and vanilla. Whip the egg whites until stiff peaks form and fold into the coconut filling. Pour the coconut mixture over the crust. Bake for 10-15 minutes.