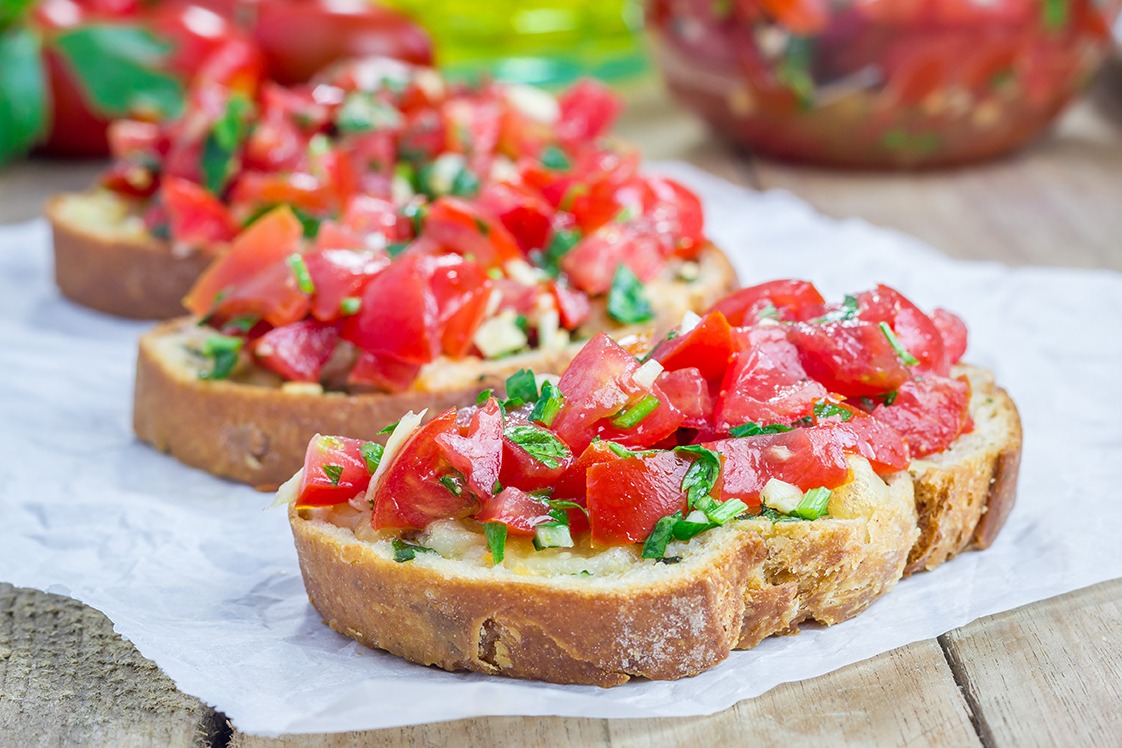 Bruschetta
1 1/2 cups

Roma tomatoes (6-8) (chopped)

2 Tbsp

Red onions (diced)

1-2

Large cloves garlic (minced)

2 Tbsp

Fresh basil (4-6 small leaves) (chopped)

1 Tbsp

Olive oil

1 Tbsp

Red wine vinegar (or balsamic vinegar)

1/4 tsp

Salt

dash

Ground black pepper

1/4 tsp

Garlic salt

2-3 sprigs

Cilantro / Italian parsley
French bread, crusty Italian bread, or baguettes
Recipe Instructions
In food processor using "M" (momentary) switch, for greater control, chop Roma tomatoes. Make sure they are not chopped too fine.
In bowl add chopped tomatoes, red onion, garlic, cilantro and basil. Add oil, vinegar, garlic salt, pepper and mix. Cover bowl and let sit in refrigerator for at least one hour. When ready to serve, preheat broiler and slice bread in 1″ slices on 45° angle. if bread had hard crust, slice clove of garlic in half and rub around edge of crust. Brush entire surface of each slice of bread with olive oil, (both sides).
Broil bread in oven for 1 1/2-2 minutes per side or until surface of bread starts to turn brown. Arrange bread slices on serving platter. Pour chilled tomato mixture in a neat pile onto bread slices, or serve tomato mixture in bowl by bread. Garnish with Italian parsley.