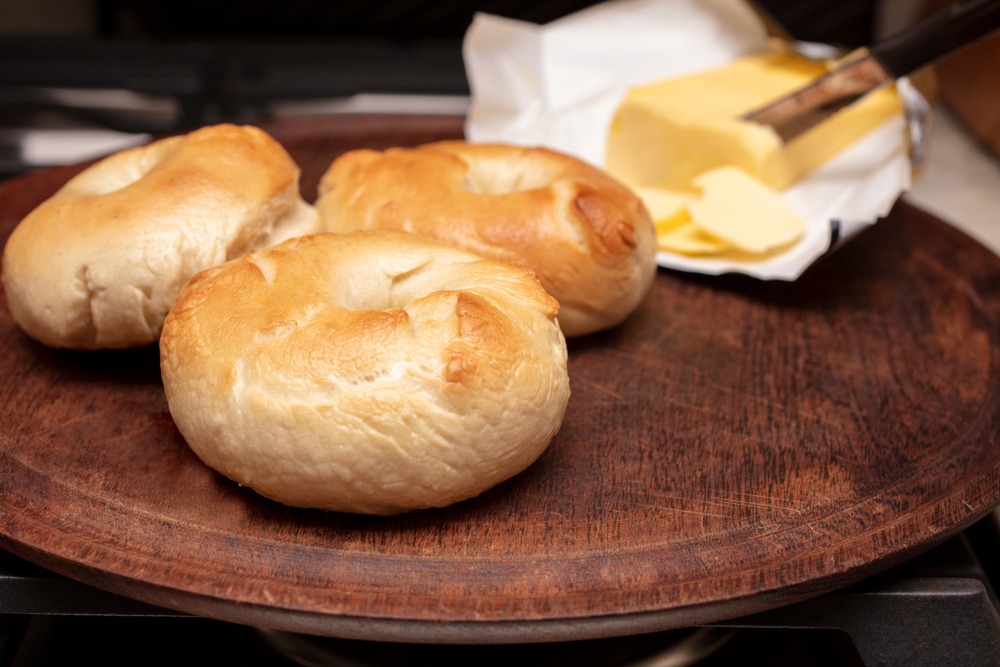 Bagels
Ingredients
Bagels

4 cups

bread flour

1 Tbsp

brown sugar

1.5 packets

instant yeast

2 tsp

salt

1 1/2 cups

warm water
Water Bath

4 quarts

water

1/4 cup

brown sugar
Recipe Instructions
Combine all ingredients using mixer. Knead for 8 minutes with dough hook.
Cover bowl with plastic wrap. Allow dough to rest for 1 1/2 hours.
Transfer dough to a clean surface. Divide into eight pieces. Roll each piece into a ball.
Poke a hole through the center of each ball, stretching the hole with your fingers until about 2 inches wide. Let bagels rest for a few minutes while preparing the water bath. Preheat oven to 425F.
Prepare water bath by heating water and sugar in a large pot. Bring water to a boil over high heat, then turn down to medium-high.
Place bagels in the water bath, 2-4 at a time. Cook the bagels for one minute, flip, and cook for one more minute. Remove the bagels from the water and place on a baking sheet lined with parchment paper.
Bake bagels for 20-25 minutes or until lightly browned.