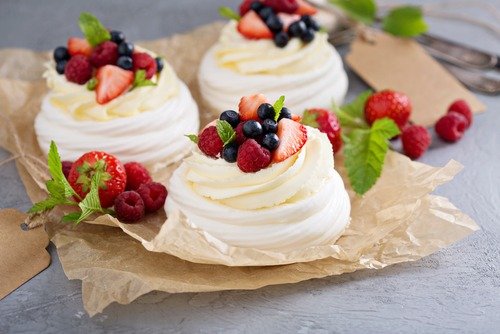 Pavlova
5

eggs

9 tbsp

granulated sugar

9tbsp

powdered sugar
forcing bag* (optional)

1 1/4 cups

whipping cream

1

vanilla flavored sugar

3 oz

straberries

3 oz

raspberries

3 oz

blueberries

to tast

mint leaves
Recipe Instructions
Meringue:
Separate the eggs and whisk the whites for at least 5-10 minutes in the bowl with the egg whisk; removing the pusher from the feed tube first. When the eggs form peaks, gradually add the granulated and powdered sugar via the feed tube. Continue. whisking. The mixture must become stiff. Using the forcing bag* (or a spoon), form rounds of meringue (3-4-inch thick) on a baking tray that has been lightly oiled or covered with a sheet of baking parchment. Bake in the oven at 210F (gas mark 1/2) for 1 1/2 hours. Allow to cool, then put in the fridge.
Whipped Cream:
Put the bowl and the ingredients in the fridge for 1 hour. Pour the whipping cream into the bowl with the egg whisk. Whip the cream, then add the vanilla sugar. Blend for 8-10 minutes, making sure that the cream does not turn into unsalted butter. Just before serving, coat the meringues with whipped cream and add the fruit and mint leaves.
Experiment with other types of fruit, such as peaches, apples, and grapes. You can also serve this dessert with a red fruit coulis.