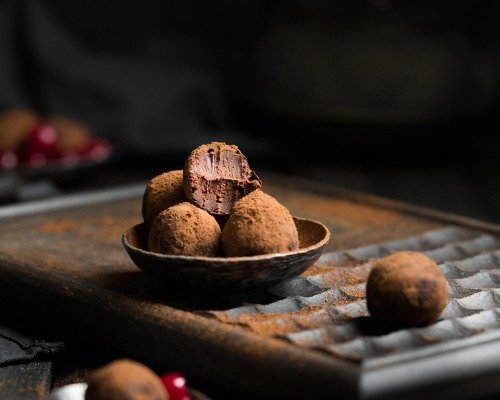 Dark Chocolate Truffles
1/2 lb

dark chocolate

4 tbsp

unsweetened cocoa powder

2

egg yolks

5 tbsp

heavy whipping cream

6 tbsp

unsalted butter

4 tbsp

powdered sugar
Recipe Instructions
The Day Before:
Melt the chocolate in a bain-marie* over low heat. Stir thoroughly with a wooden spoon to achieve a smooth consistency. Gradually add the diced unsalted butter, continuing to stir. Pour the chocolate into the bowl with the metal blade. While the machine is running, add the cream, egg yolks, and powdered sugar via the feed tube. Blend for 30 seconds. Pour this preparation into a large bowl and chill for 24 hours. 
The Next Day:
Pour the cocoa powder into a glass. Take a teaspoon of the chocolate mixture and roll into a ball in the palm of your hand. Drop into the glass of cocoa powder. Turn gently to ensure that it is evenly coated in cocoa, then lift out and put in a pan. Repeat this procedure until all the mixture has been used up. Put the pan in the fridge.
The truffles will keep for 3 or 4 days in the fridge. Remove them 15-20 minutes before handing them round so that they are not too hard.