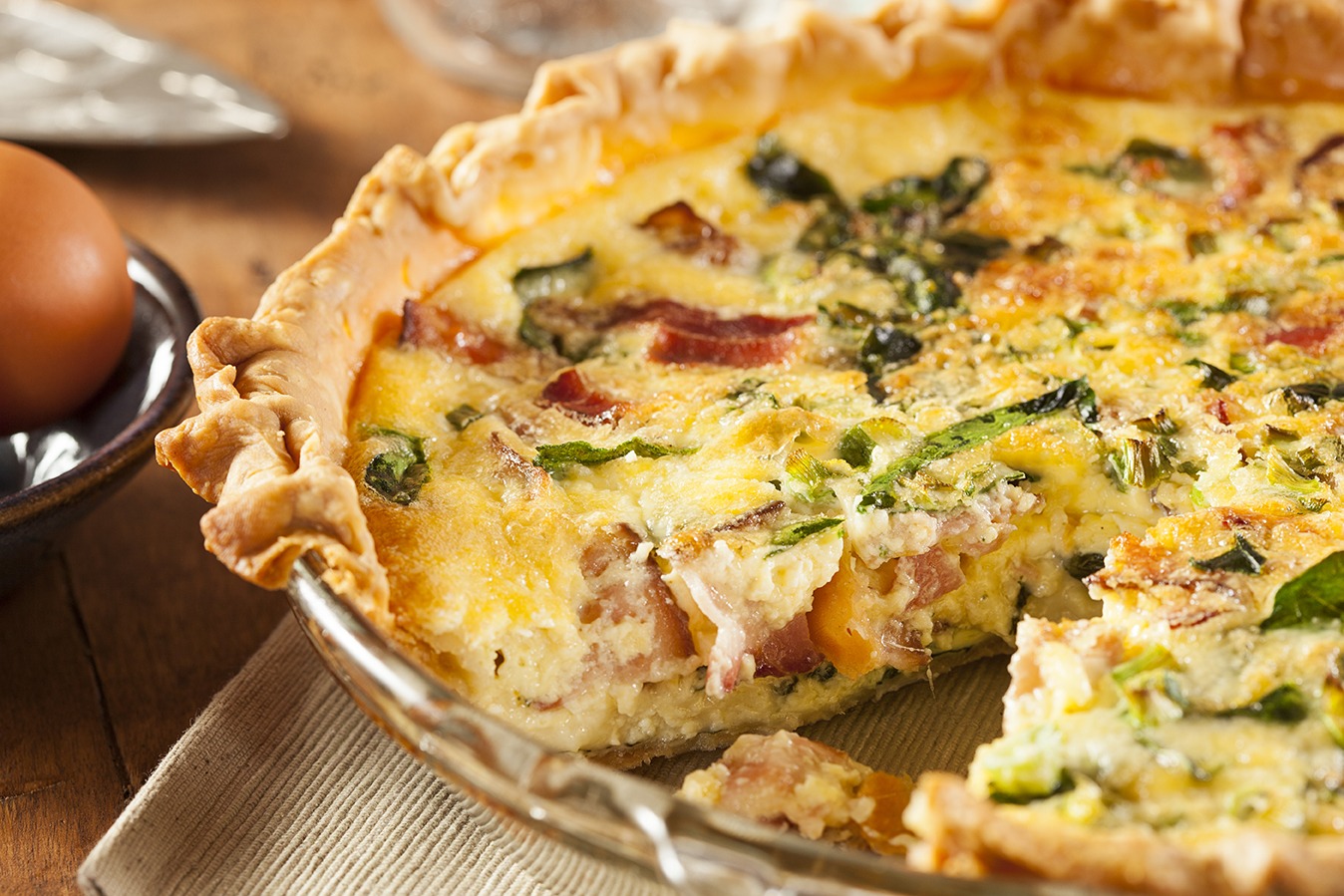 Egg & Bacon Pie/Quiche
Mary Ann Barnett – Prairie House Distributors
Ingredients
Puff Pastry:

2 cups

All purpose flour

1/2 tsp

Salt

1/2 lb

Cold unsalted butter (2 sticks) cut into 1/2" cubes

1/2 cup

Ice water
Egg & Bacon Filling:

1/2 lb

Bacon (precook and cut into pieces) or use thin ham, sausage, any type of meat or vegetable

9

Eggs (8 for filling/1 for egg wash)

3 Tbsp

Green onion, chives or regular onions (chopped)

1/2 tsp

Salt

1/4 tsp

Peppper

1 Tbsp

Milk or water (for egg wash)
Recipe Instructions
In Bosch bowl with wire whips mix flour and salt. Add butter cubes and blend until coarse meal stage. Pulse in ice water 1 Tbsp at a time, until dough forms a ball. Turn dough on counter. Flatten into 6″x4″ rectangle. Dust slightly with flour. Wrap in plastic and chill in refrigerator for 1 hour. 
Using floured rolling pin roll dough on floured surface into 12″x6″ rectangle. If dough sticks dust with additional flour. Turn dough with short side closest to you. Fold dough into thirds. Bottom third up and top third down, (like a letter). Brush off excess flour and turn dough so short side is closest. Again roll dough out to 12″x6″ rectangle. Fold in thirds again. Wrap in plastic and put in refrigerator for additional 20 minutes. With short side closest to you roll again for third time into 12″xx6″ rectangle. Fold same as above. Wrap again in plastic wrap and put in refrigerator for at least 30 minutes. Finished dough can now be used and kept in refrigerator for up to 24 hours. 
Egg & Bacon Filling:
Divide puff pastry in half. Line 9″ pie plate or quiche pan with half of puff pastry. Arrange 1/4 lb bacon (or other meat or vegetable) on puff pastry. Break in 8 eggs (pierce yolk). Sprinkle with chives (or onions), salt, pepper and last 1/4 lb bacon pieces. Top with remaining puff pastry. Beat 1 egg with 1 Tbsp milk or water. Brush on crust. Bake in 400° oven for 25 minutes. Serve hot or cold.