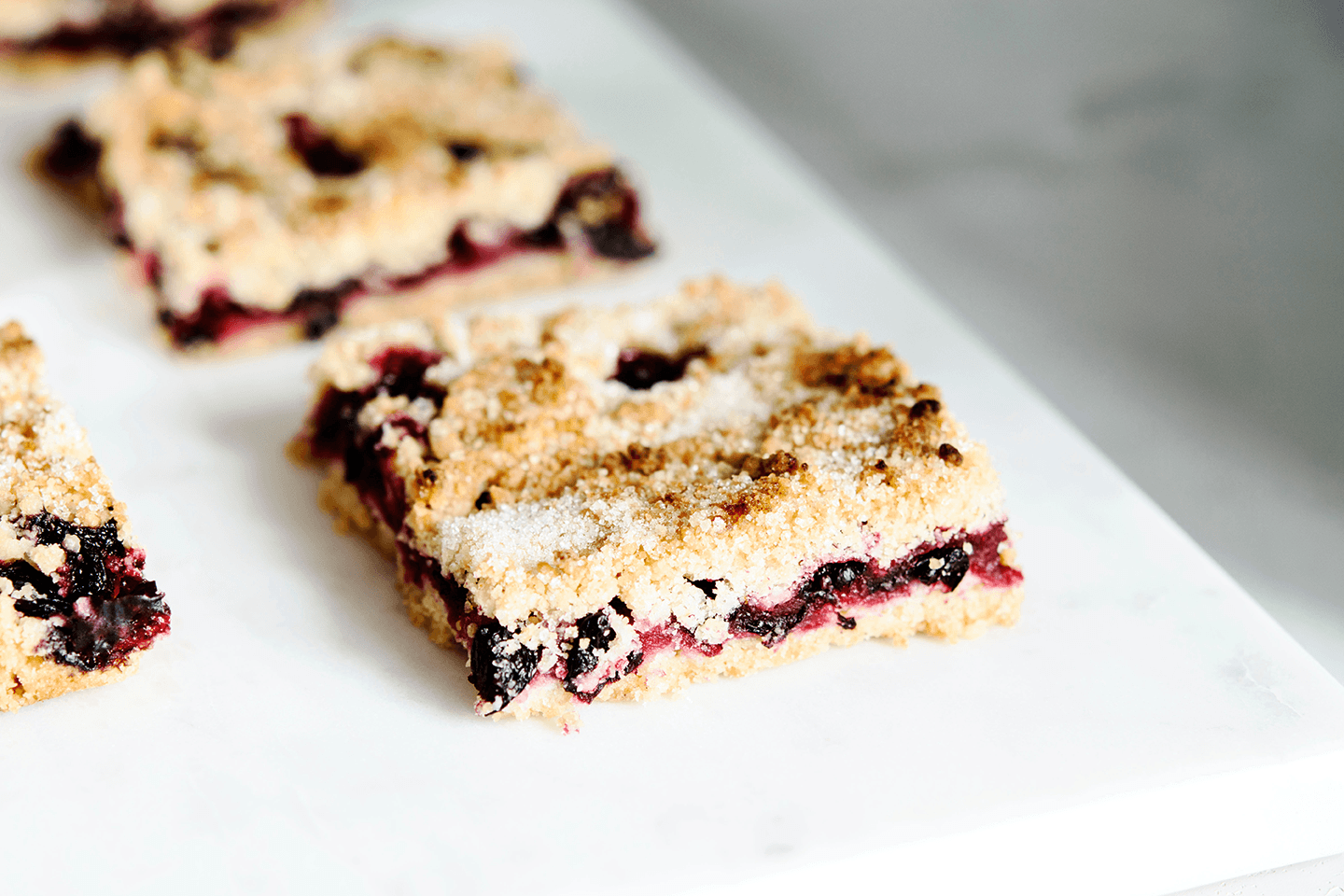 Streusel Blueberry Buckle
Ian Black – Winnipeg Bosch kitchen Centre
Ingredients
Streusel topping:

1 cup packed

Brown sugar

2/3 cup

Flour

1 tsp

Cinnamon

1 tsp

Nutmeg

1/2 cup

Margarine or butter (soft)
Buckle:

4 cups

Flour

1 cup

Sugar

1 tsp

Salt

1 tsp

Nutmeg

1/2 cup

Margarine (soft)

1 cup

Sour milk

2

Eggs

1 Tbsp

Baking powder

2 cups

Fresh or frozen blueberries
Recipe Instructions
Using cookie paddles in Bosch bowl combine streusel topping ingredients, except margarine. Pulse "M" (momentary) switch to evenly distribute spices. Cut in margarine just until crumbly. Remove streusel from bowl and refrigerate. 
For buckle blend together flour, sugar, salt, and nutmeg using cookie paddles. Cut in margarine. Combine milk and eggs and add to mixture along with baking powder. Mix well. Shake blueberries in a bag with 1 Tbsp flour coated. By hand, or very carefully using the "M" (momentary) switch, fold blueberries into batter. Try not to break up any of the berries. 
Pour into large rectangular baking pan. Spread topping over batter. Bake in preheated 375° oven on center rack for 35 to 40 minutes, or until nicely browned and a toothpick inserted in the center comes out clean. Serve with Bosch whipped cream.
Bosch Whipped Cream: 2 Tbsp powdered sugar, 1 pint whipping cream, 1 tsp vanilla.
In Bosch bowl using wire whips, whip cream on speed 4 until cream starts to thicken. Gradually add sugar while whipping. Blend in vanilla after cream has set. Use immediately or chill covered.