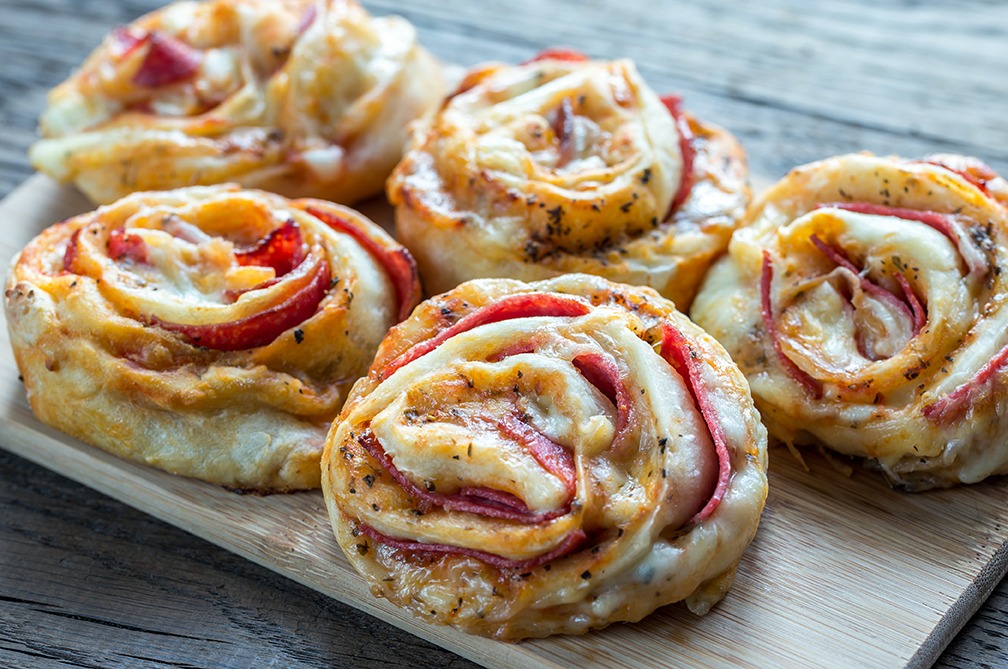 Ham and Cheese or Pizza Roll-Ups
Shar Lomax – Shar's Bosch Kitchen Center
Recipe Instructions
Use 1/2 whole wheat roll dough or white bread dough recipe. After dough is made, place dough on oiled surface. Roll out rectangle approximately 12″x18″, (1″ thick).
Ham & Cheese Roll-Ups: Spread dough with butter (optional). Sprinkle with chopped ham, small amount of grated cheese (cheddar, mozzarella, etc.) Finely chopped onion & garlic.
Pizza Roll-Ups: Spread dough with pizza sauce, Chopped bell peppers, sliced mushrooms, black olives, chopped onions and any meat (pepperoni, sausage, etc.).
From the long side, roll-up like a cinnamon roll. Making no more than 3-4 turns of the dough. Cut with dental floss into 1-1 1/2″ thick slices. Place on heavy duty, parchment lined cookie sheet. Top with grated cheese. Let rise to double in size and bake at 350° for 20-25 minutes.