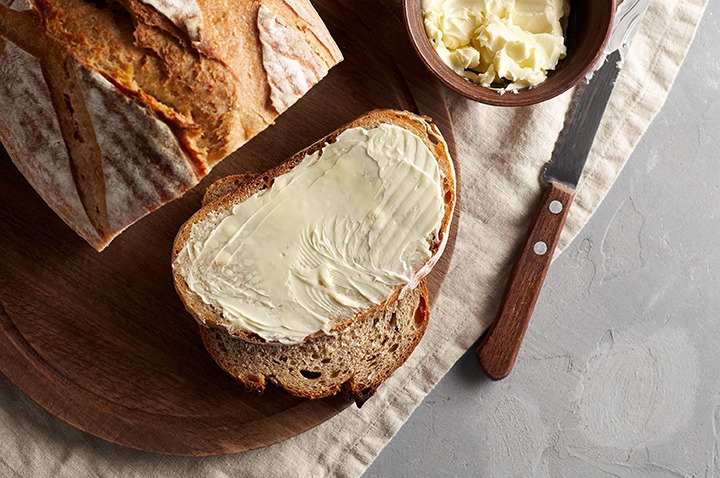 Greg's Best Ever Whole Wheat Bread
Greg & Dottie Nielsen – Dottie's Bosch Kitchen Center
8 cups

Fresh ground whole wheat flour

2 cups

High gluten bread flour or 1/3 Kitchen Resource Vital Wheat Gluten

1/2 cup

Potato flour

1/2 cup

Powdered milk or buttermilk

4 Tbsp

Kitchen Resource Dough Enhancer

5 Tbsp

SAF instant yeast

2 Tbsp

Sea salt

1 cup

Canola oil

2/3 cup

Honey

6 cups

Warm water (approximatley 115°)
Recipe Instructions
In Bosch Universal mixer bowl with dough hook, sift dry ingredients together on speed 1 for approximately 1 minute. Then add warm water, oil and honey.
Turn machine to speed 1 and continue to add wheat flour only until dough begins to pull away from sides of bowl. When you see sides pull clean as well as dough coming clean from bottom of bowl, you have enough flour. Do not add too much flour. Dough should be very sticky and does not come together at this point, but bowl is clean.
Knead on speed 1 for 8-10 minutes or until gluten has been developed. If dough is too dry, add a few tablespoons of water to moisten. If dough starts sticking add a little white flour to soak up moisture. 
Oil hands and remove dough from mixer. Place on lightly oiled counter. Divide dough with a dough divider into 4-5 loaves depending on pan size. We like an 8 1/2″ / 4 1/2″ pan. This size yields 5 loaves. Because flour is never measured exactly, sometimes yield is 4 loaves. 
Shape loaves, and place in well greased or a sprayed pan. Never use oil. Cover with a dry towel and let rise until dough has doubled or is approximately 2″ above rim of the pan. This will take between 30-60 minutes depending on room temperature. 
Bake in preheated 350° oven for 30-35 minutes, until inside temperature of bread is 200°. Cool on rack. Bread will keep up to 30 days in your freezer without burn.