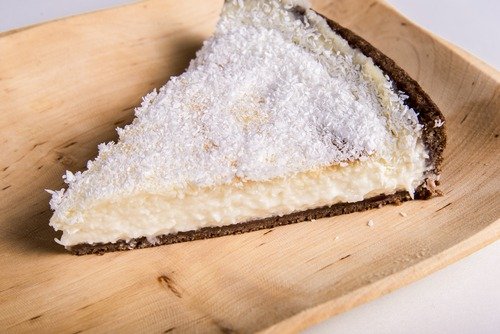 Coconut Tart
Ingredients
Richshort crust pastry

2 1/2 cups

all-purpose flour

1 cup

softened unsalted butter

3/4 cup

granulated sugar

1

eggs

1 pinch

salt

3 tbsp

water
Tart

1/2

fresh coconut

1

eggs

4 tbsp

granulated sugar

1/2 cube

vanilla flavored sugar

2 tbsp

dark rum

2 oz

semi-sweet chocolate
Recipe Instructions
Pastry Crust
Put the flour, salt, granulated sugar and eggs in the bowl with the dough blade. Blend for 30 seconds. Switch off and add the diced unsalted butter. Switch on again, add the water via the feed tube and stop blending as soon as the dough forms a ball. Leave in a cool place for 30 minutes.
Rich shortcrust pastry can be used for making tarts of cut into shapes for biscuits. If the dough fails to form a ball, add a little water. 1 lb of dough is sufficient for a 12-inch quiche mold. The amount of water required will depend on the absorbent capacity of the flour.
Tart
Preheat the oven to 355F (gas mark 4). Butter a quiche mold, line with the pastry and prick the base with a fork. Cover with a circle of baking parchment and a layer of beans (or rice). Bake blind* for 15 minutes. Meanwhile, make a hole in one of the "eyes" at the top of the coconut. Collect the juice in a bowl, blow into the hole, block the hole with your finger and hit the coconut with the flat end of a hammer. Remove the flesh and process in the bowl with the juicer attachment. Retrieve the pulp from the juicer and the coconut milk from the bowl. Heat the coconut milk in a saucepan, add the vanilla and granulated sugar. Stir until melted. Draw aside and add the coconut pulp. Mix. Blend the eggs in the bowl with the metal blade until they are light and fluffy. Add the coconut mixture to the eggs and blend. Pour the rum in through the feed tube. Set aside. Melt the chocolate in a bain-marie* and spread a thin layer of it over the pastry. Pour the coconut mixture over the top. Bake in the oven at 355F (gas mark 4) for 10-15 minutes. 
If your food processor is not equipped with a juicer, you can use desiccated coconut instead (5 oz for 8 people).