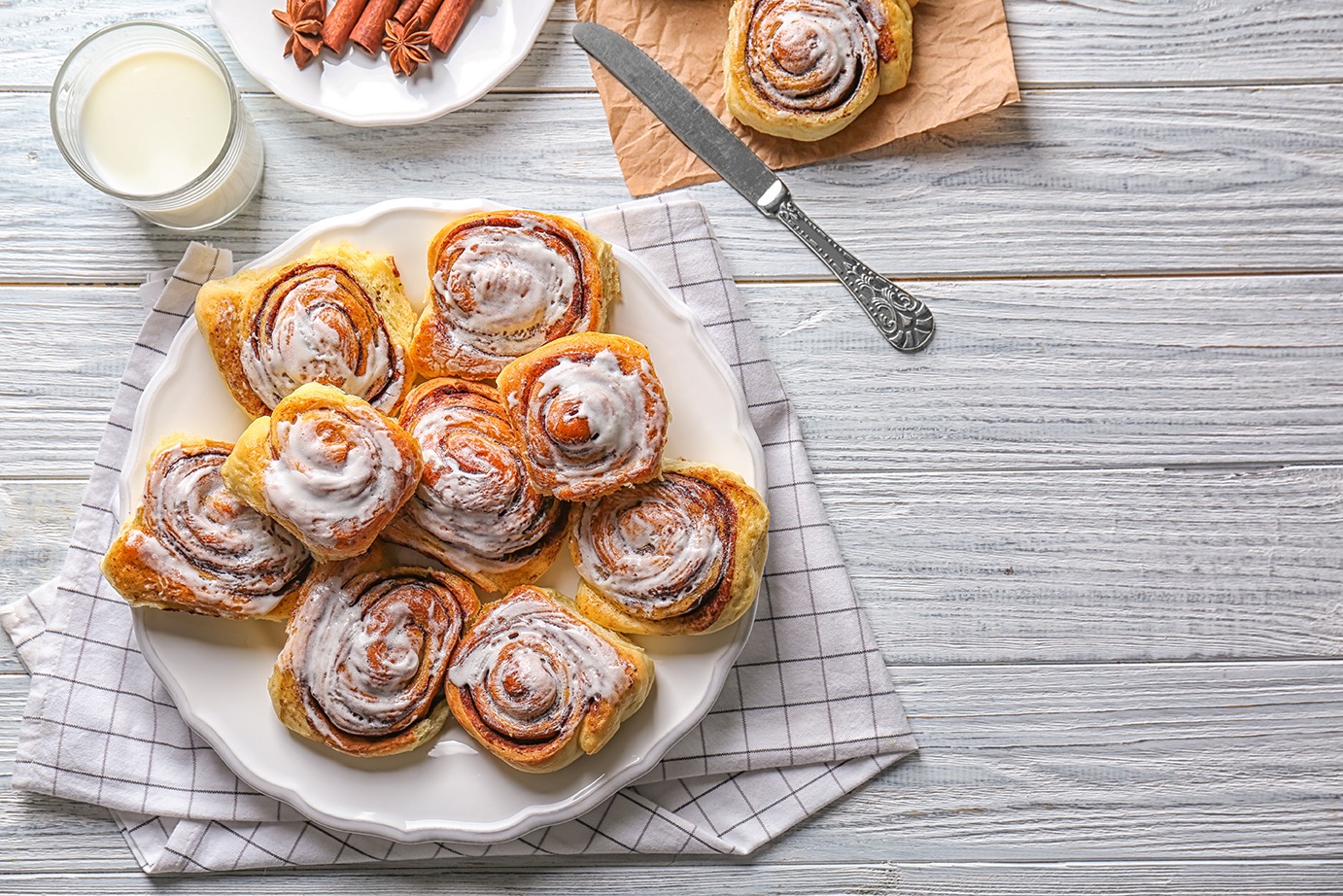 Creamy Whole Wheat Cinnamon Rolls
Denise Fidler – The Country Baker
8 cups

Whole wheat flour (freshly ground hard white spring or hard white bread flour or 5 cups all purpose flour plus 3 cups white bread flour)

1 cup

Warm whole milk (115°-120°)

3/4 cup

Honey

1 1/4 cups

Salted butter (melted, divided and slightly cooled) (1/4 cup set aside for brushing dough)

7

Large eggs (room temperature)

1/2 Tbsp

Salt

4 Tbsp

Saf instant yeast
Optional:

3 Tbsp

Kitchen Resource Dough Enhancer

3 Tbsp

Granular lecithin

3 Tbsp

Kitchen Resource Vital Wheat Gluten
Recipe Instructions
In Bosch mixing bowl with dough hook, mix milk, honey, 1 cup butter, eggs, salt, 3 cups flour, yeast, dough enhancer, lecithin and gluten. Add enough remaining flour until it cleans sides of bowl. Begin kneading process by timing for 3-5 minutes on low speed.
Once kneaded, cover dough with a light towel and let rise until doubled, approximately 1 hour. Punch down gently to redistribute the yeast and rise again until double. Deflate again and roll into a large rectangle, approximately 1/4″ thick. Spread with softened butter. 
Mix following ingredients and spread on dough: 3 cups brown sugar, 1/4 cup cinnamon, Zest of two oranges (optional)
Roll up tightly and cut into 1″ or 2″ slices using a serrated knife. Place on parchment lined cookie sheet with 1″ or 2″ between each roll. Brush tops with reserved melted butter. Cover with saran wrap and rise overnight (6-7 hours) on a flat surface in a cool spot, (not the refrigerator). If dough is put in refrigerator rolls must be left at room temperature in the morning until they are doubled in size. Approximately  2-3 hours more.
Bake in preheated oven at 325° for 40-55 minutes, depending on thickness of slices. Cool slightly and ice. Makes 18 buns
Icing: 1 cup soft butter, 3- cups powdered sugar (depending on how thick you want icing), 1 Tbsp pure vanilla, 1/2 cup whipping cream, 1/2 tsp cinnamon.
Melt butter in pan. Add sugar, vanilla, whipping cream and cinnamon. Frost rolls.
Note: These may be baked the same day after buns are doubled in size. Rising them overnight creates a much lighter roll with a more pronounced yeasty flavor.