"It is a truth universally acknowledged, that a baker in possession of a good Bosch Mixer, must be in want of an attachment"
-Kari Kimball, pretending to be Jane Austin-
It's that time of year again, time to prepare for the whirlwind of traditions, shopping, list-making, and baking.  Yes, it's only October, fall-break and Halloween are foremost on our minds, costumes, corn-mazes, and sugary treats are looming.  But we all know with the passing of Halloween we enter second gear, that blur between Halloween and Turkey Day.  Then it's warp speed ahead, holiday plays, school concerts, piano recitals, parties, shopping, baking, more shopping and most of all lists.  Lists of gifts, and groceries, and schedules. 
I think we should get started on the most important list now, no time like the present.  So get out your pencils and start your wish list. What do you want this year.  Be prepared when your significant other asks what you would like for the holidays.  If they need a subtle hint then print your list out and paste it on the bathroom mirror!  Missing a significant other?  Then it's your job to take care of you, step up to the plate and get yourself the gift that you want!  It doesn't matter if it's smoothies or pasta you have on your mind, you deserve the best, and Bosch Mixers is here to help.
Many of you already have a Bosch Mixer, that's why you're reading our blog, but if you just happened to land on our page then welcome!  If you're looking for a great mixer then you're in the right place.  The Bosch Universal Plus Mixer comes in two great colors, white and black. Both mixers have an amazing 800w motor, bottom drive and a wonderful open-top bowl with a lid that closes completely.  No more flying flour. So powerful, and it's easy to add ingredients to the bowl.  
The Bosch Mixer is strong enough to knead 100% whole-wheat bread dough.  (Most other mixers will void your warranty if you are mixing 100% whole wheat). The black mixer comes with a beautiful stainless steel bowl, isn't it pretty?  The white mixer comes with a white plastic bowl  with the lip. The stainless steel bowl is available to purchase, see #13 below.
The big news for both of these mixers is the recent price drop, unlike anything we've ever seen before.  It's like Black Friday every day here at Bosch Mixers! Why spend money on a mixer that won't last when you can get one of these beauties that will be loyal for years to come?
It's the attachments make the Bosch Universal Mixer a complete kitchen machine.  Why have all those extra appliances cluttering your pantry when one mixer can do it all. Here's a quick look at the top 14 Bosch Universal Plus attachments.   Click on the picture or scroll down for detailed descriptions and to see the product on the mixer.  There are also a few videos to see the products in action.
Detailed Descriptions - click on image to purchase
The Universal Plus Complete utilizes the 800 watt motor it is strong enough for any task, from crushing ice to making your own fresh smoothies. It's easy to use and the removable blades make it easy to clean, as well. For use with your Bosch Universal Plus Kitchen Machine.
Includes lid and funnel
6 Cup Capacity
Removable Stainless Steel Blades
1 Year Warranty
Get even more functionality out of your Bosch Mixer.  The hand vacuum removes oxygen from the blender creating an incredibly smooth texture.  By removing the oxygen the food stays fresher and healthier.
BPA Free
5 Cup Capacity
Includes Hand Vacuum Pump for reduced oxidation
Removable blades for easy cleaning
Like the blenders the. Universal Food Processor utilizes  the high-speed drive tower.  Easily slice vegetables, shred cheese and vegetables, or whip up some pesto.  Great for smaller jobs.
5 Cup Capacity

BPA Free

Includes Food Processor blade, Slicing Disk (Reversible thick/thin), Shredding and Grating (reversible coarse/fine) and Potato Grating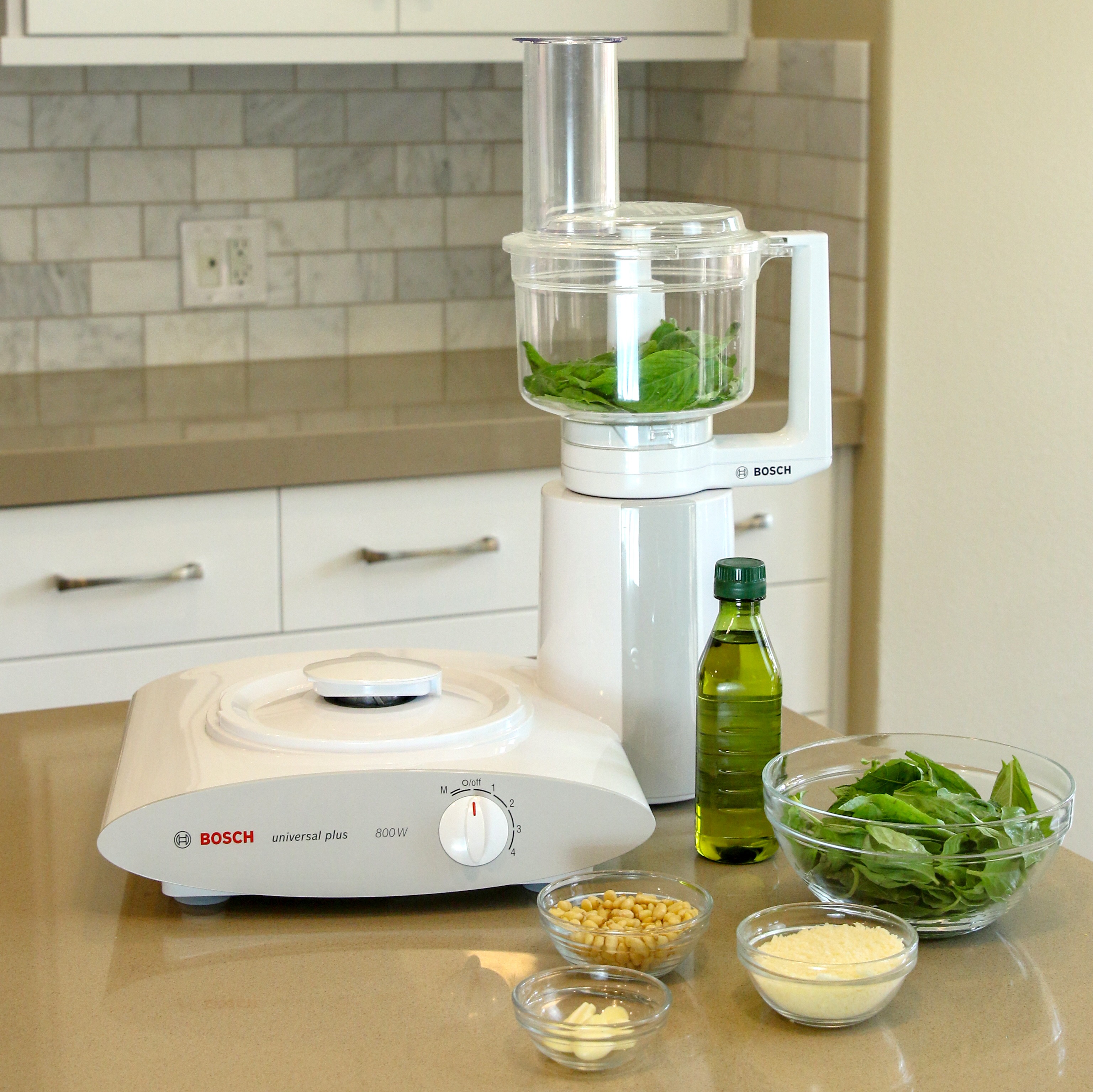 Possibly the most versatile attachment. Slice perfectly uniform apples for apple pie or potatoes for scalloped potatoes. Shreds cheese, carrots, or zucchini, etc. French fry disc makes veggie fries from potatoes, sweet potatoes, or zucchini. Bowl can be used as a secondary mixing bowl when purchased with whisk assembly or mini dough hook (not included). Additional discs available to purchase separately: julienne and rasping and crinkle-cut. 
3 discs: Shredding (reversible coarse/fine), Slicing (reversible thick/thin), and French Fry Cutter
12-cup capacity bowl (whisk assembly or mini dough hook, not included)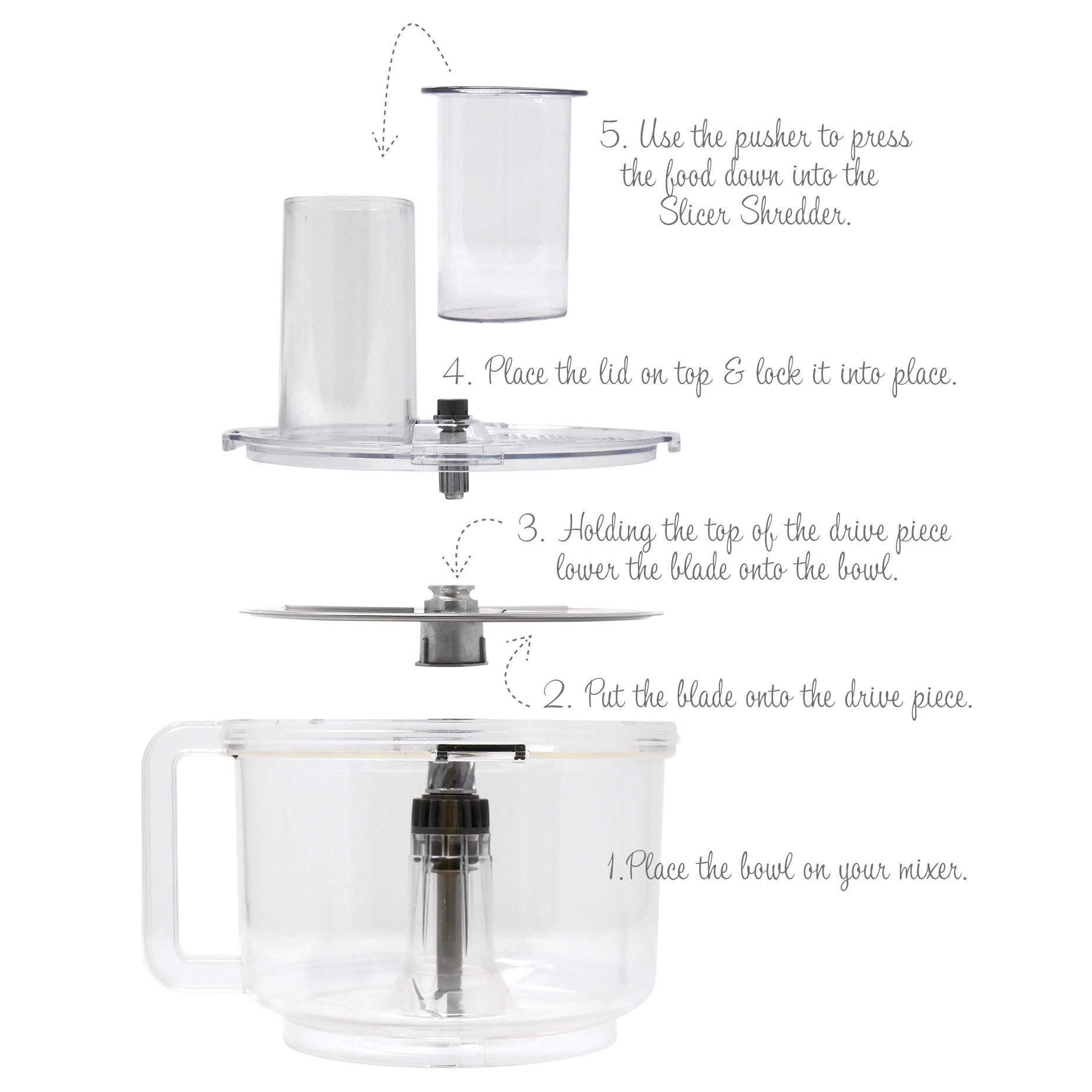 Slice, shred & grate directly into the Bosch Mixer bowl. This attachment fits over the top of your bowl and slices directly into the bowl for easy shredding. Bosch Slicer Shredder (MUZ6TS5) Blades fit in this as well. Slice/Shred right into the bowl. Fits all BOSCH bowls with center column.
Lid with extra large chute
Pusher
Shredding Blade (Reversible – Coarse/Fine)
Grating Blade (Fine Shredding/Grating)
Slicing Blade (Reversible – Thick/Thin)
Blade support ring

2 drive couplings & Blade Drive
Spiral vegetables are all the rage, now you can let your mixer do the work.  Save money and time! Transform your fruits and vegetables into colorful noodles. Enjoying healthy, homemade spiral cut veggies has never been easier.
Includes:
 Spiralizer
 3 blades (thick spiral, thin spiral, straight edge blade)
 Pusher
Possibly the most popular attachment. The new ice cream maker attachment for the BOSCH Universal Plus is so easy to use. There's no canister to freeze overnight and you're not limited to one batch and one flavor. With the new ice cream maker attachment, delicious, homemade ice cream is only 20 minutes away! You can make up to 1.5 quarts of ice cream per batch (the perfect amount).
 Stainless steel ice cream bowl
 Lid
 Stir stick
$59.00
Fresh squeezed juice is delicious and perks up your favorite recipes. This juicer fits onto the high speed drive and is perfect for oranges, lemons, large limes, and small grapefruits. Handy pour spout makes less mess. Removable strainer basket for easy cleaning and all parts are dishwasher safe. 3.5 cup capacity.