Ok, so you have your heart set on a new Bosch mixer for the holidays. You know why you want it, and inherently understand the value it would bring to your family's life. Explaining it to your husband is another matter. As we all know men are from Mars and women are from Venus. In other words we speak different languages.
Most men will understand the value of Bosch. The Bosch reputation is impeccable, they are renowned for creating quality tools and appliances. If it's made by Bosch then it's a quality product.
If he still needs a little convincing we've created this handy Martian guide.
Why it's important to him!
Motor power

is measured by how much work it can do in a specified time. BOSCH Universal Plus has an impressive 800-watt motor that allows it to handle heavier workloads and finish the job faster than its competitors. 800-watts is more than 1 horsepower.
The BOSCH 

belt drive transmission

automatically adjusts its power to any load, much like an automatic transmission in a car will shift gears to generate more power. Unlike gears, a belt driven transmission helps protect the machinery from overload and jamming, no lubrication needed, requires minimal maintenance and has a 95% efficiency rate.  The Bosch mixer has a less than 2% fail rate.
Bosch uses a 

V-Belt

to prevent premature slippage and provides the best combination of traction, speed and movement.  They have an incredibly long service life. The "V" shape of the belt wedges itself into the track groove as the load increases. The greater the load the greater the wedging action. This allows your motor to run smoother and generate an enormous amount of torque, while reducing stress and excessive heat buildup in the motor, and makes it very quiet.

Torque

is the rotational force a motor can apply. Without sufficient torque a motor will lack the required power to push through heavy loads putting stress on the motor and causing it to overheat, shut down, or even worse, damage the motor. Torque is crucial when mixing 100% whole grain dough. 

The design of the transmission provides optimal torque for extra heavy loads.

 

The Bosch mixer has two drives, a

low speed drive

and a

high speed drive

.  The low speed drive powers the bowl and all of the attachments that fit on the bowl. The high speed drive, located in the "tower" of the mixer, powers the blender and the food processor. Both drives run on 800 watts of power. 

The Bosch Universal Plus Mixer also has built in

safety features

to protect the motor.  Stainless steel components are incredibly strong.  I'd love to show you the highly proprietary components, but then I'd have to kill you.
It's a

BOSCH

– 'nuff said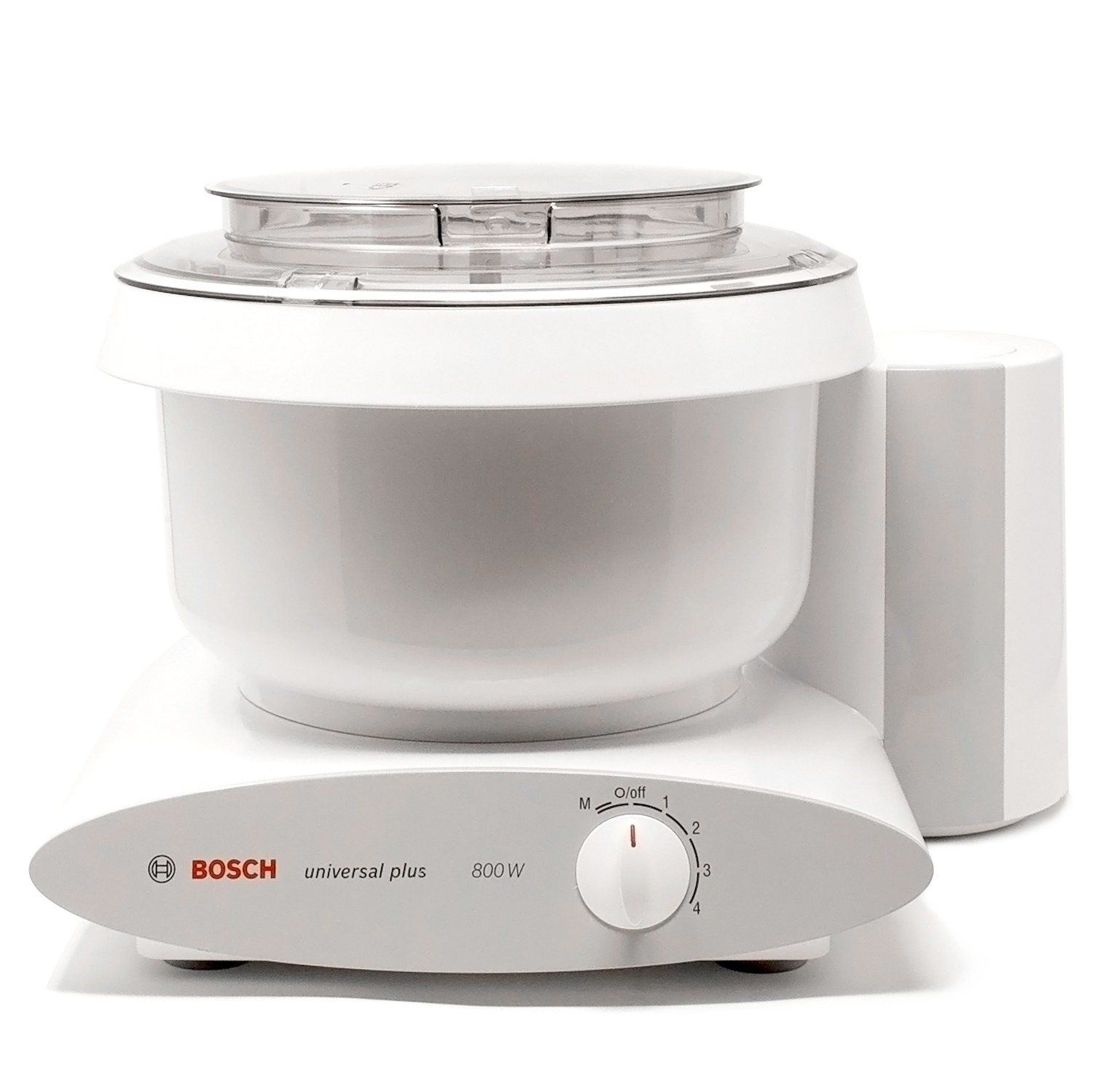 Why it's important to her!
Motor power

– The Bosch Mixer is rated for 100% whole grain. No more burning motor smell. Other mixers will bog down with a heavy whole-grain dough and will void their warranty.

The BOSCH belt drive transmission…. yada yada yada. You can actually hear the motor adjust as you add more ingredients.  It gets the job done, and that's all that matters.
Bigger Bowl – 6.5-quart bowl holds more ingredients, triple or quadruple recipes.
 

Open Top




Easily add ingredients

See what's happening
Kids can help

Suction Feet

 on the bottom of the machine are very strong and keep the mixer in place.  No fear of this mixer "walking" off the counter.

Light Weight

– easy to move
Lasts a

lifetime

– enough said
Accessories


Convenience & versatility of one machine vs 5 or 6
Saves space and money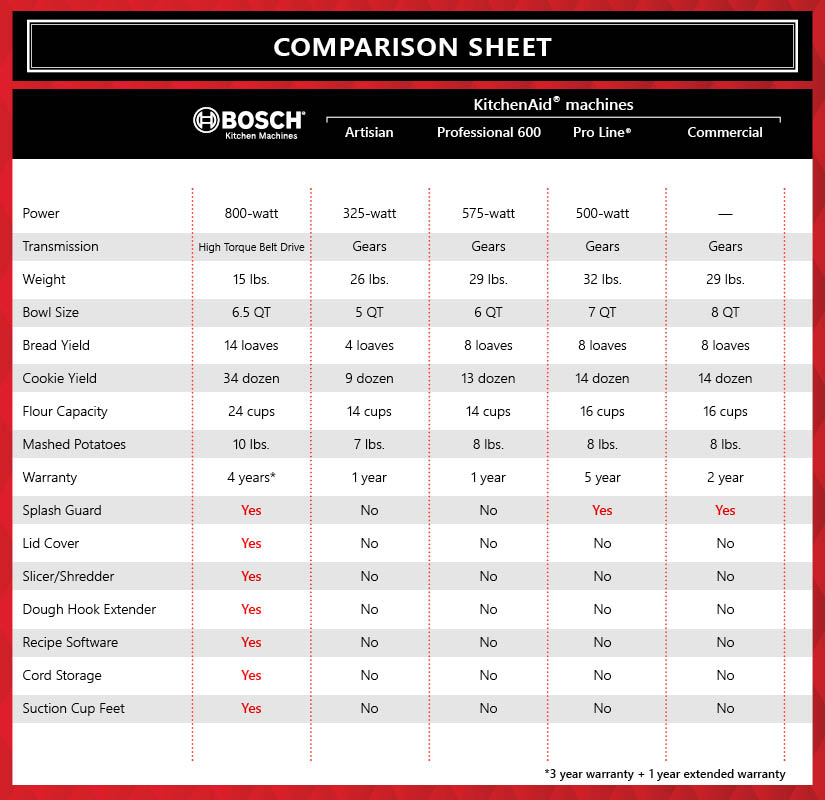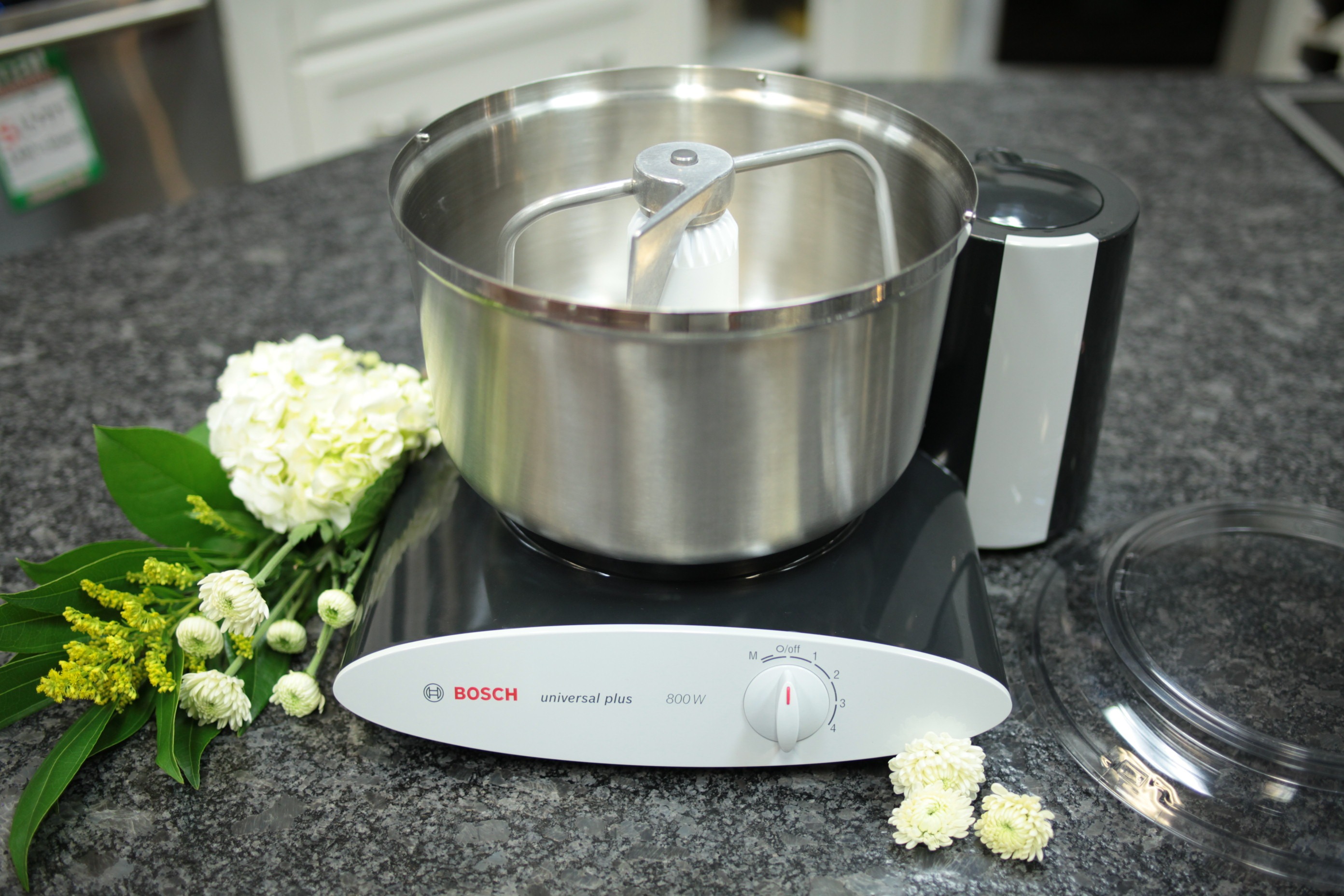 The Black Bosch is the same great machine with a bold new look, the stainless steel bowl is included with this beauty.  If you really want to make your wife happy this is the way to go
"It is a truth universally acknowledged, that a baker in possession of a good Bosch Mixer, must be in want of an attachment" -Kari Kimball,
Read More »
Still have questions?  Feel free to call or ask or text or contact us on social media.  Just remember, happy wife – happy life!